Euro 2016: UEFA's grounds of concern
source: StadiumDB.com; author: michał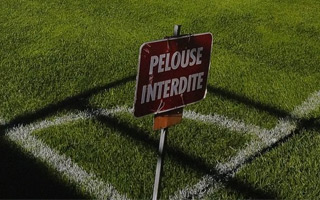 Additional lighting and ventilation, patching, even painting. All of these measures have been used to salvage the poorest fields of Euro 2016. UEFA seems to point to the French, but hosts strike back.
Later today Ukraine and Poland will play their last group game during Euro 2016. Neither of the teams was allowed to train on the main field of Stade Vélodrome before the match. This follows similar bans in other host cities, aimed at giving the natural turfs as much rest as possible.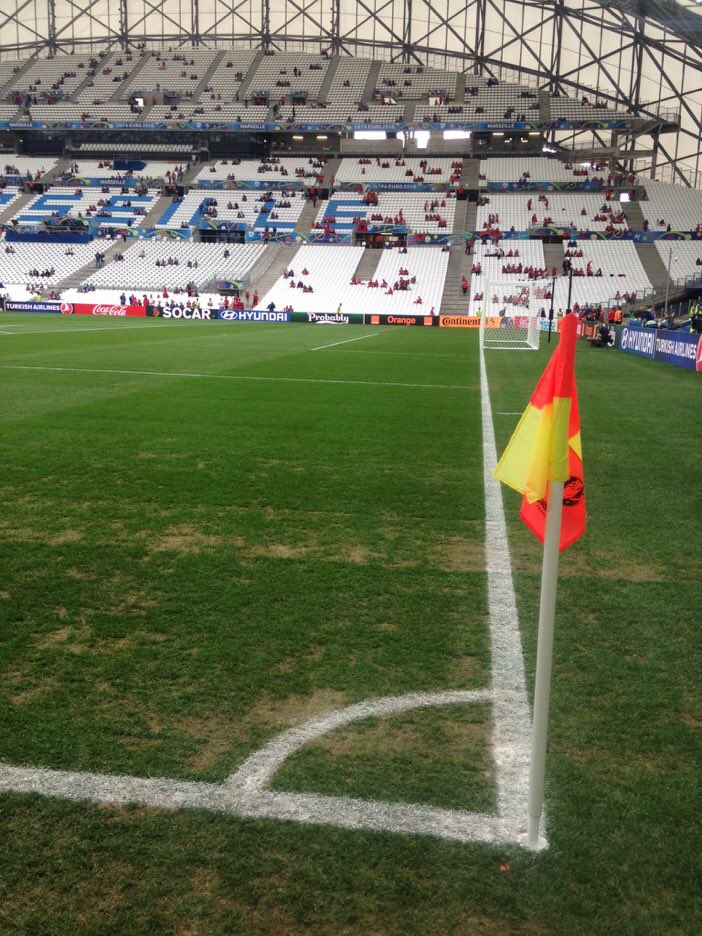 With each stadium holding four games or more, Euro 2016 will be a major burden for every field in the month-long competition. This proves particularly visible at Stade Vélodrome, where the new roof is placed very high and severely limits sunlight access. As a result lamps are used even on sunny days to aid the shaded south side's growth.
Having played their second game here, French national players and coach criticized the field in Marseille. "It's a disaster, but that's not surprising," Deschamps said. "If you have an AC/DC concert a month before the European Championship — they're changing the pitch, re-laying the turf."
Marseille not the most problematic
Literally from the first night of Euro 2016 there were complaints regarding field quality. Beginning in Saint-Denis, through Marseille, Nice and Lille, the list of concerns is longest for the last host stadium. Lille's Stade Pierre Mauroy even had portions of the field painted green ahead of the Sunday clash between France and Switzerland. It may have worked visually for TV audience, but surely didn't help the grass, again severely criticized after the game.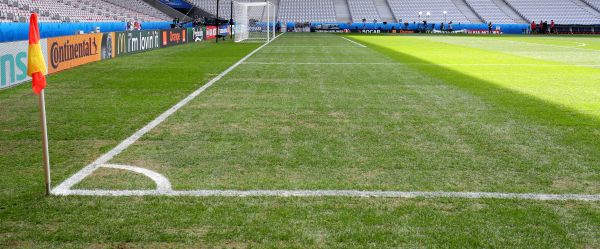 UEFA blames…
Before the Lille field-painting, on Friday UEFA officially criticized the fields. Heavy rains in weeks preceding the tournament was given as major culprit. But tournament director Martin Kallen went much further, suggesting that flawed designs or non-football use also contributed to the compromised quality.
The French respond with anger
French Grass Association (Société Française des Gazons, SFG) released a statement arguing with UEFA's narrative. SFG reminds that after the Ligue 1 season all fields were evaluated and even the most problematic one in Lille, though ranked 15th, was in decent condition.
"The organisers of the competition want to clear themselves of any responsibility by discrediting the highly qualified professionals, who are experts of French pitches," SFG said in a statement. "This stance is at the very least scandalous, when we know these (experts) were systematically excluded in any of the decision-making process and their advice ignored," the SFG said.
The association reminds UEFA that three weeks ahead of Euro 2016 the European body arbitrarily decided to replace the fields in Lille, Nice and Marseille for new ones, brought from Austria. According to SFG and several news outlets the selected grass isn't compatible, was transported inappropriately, had little time and poor conditions to grow, once in France.