Euro 2016 countdown: 01 – Stade de France!
source: StadiumDB.com; author: michał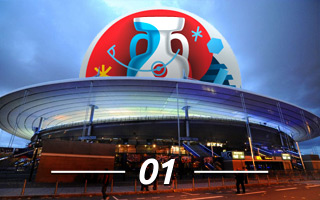 The giant from northern Paris ends our Euro 2016 countdown just hours before opening game. This building underwent almost no changes, because it's stunning as it is!
That's the last of them, also the very largest in capacity terms. Euro 2016 begins tonight and from tonight onwards we invite you to follow our coverage of results and attendances. Of course we're not over with just the Euro countdown. In the following days we'll be showing you the most interesting things about the host venues. For now, let's focus on the opening and final game venue. Here's Stade de France!
Before the tournament
History of France's largest stadium begins in 1992, when the country received hosting rights to the 1998 World Cup. One of declarations made to FIFA was to build a new national stadium in Paris. Incidentally, this was to become the first stadium project ran by the French government in 70 years. Of course it also became the largest and most expensive in French history (this year overthrown by Lyon in terms of spending).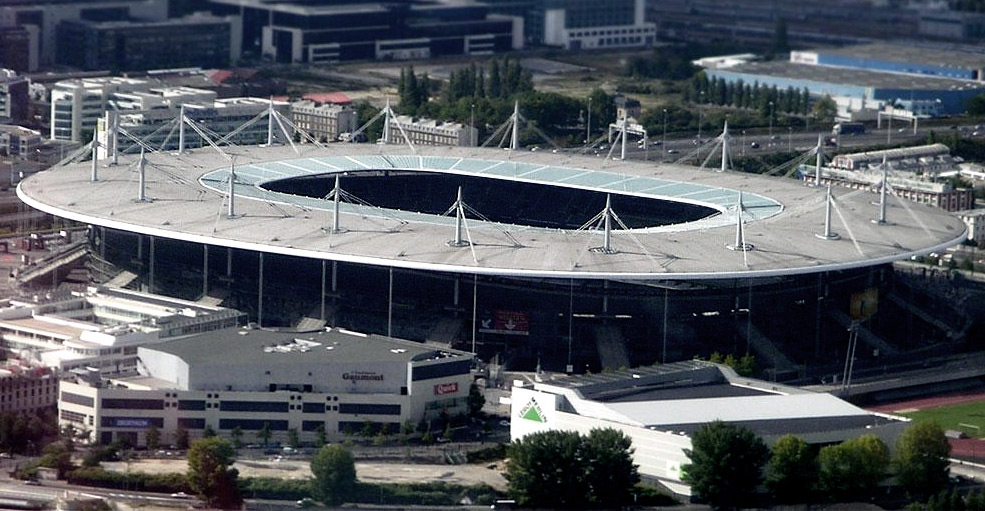 The plot in Saint-Denis required massive work. Some 800,000 cubic meters of soil were excavated, 180,000 cubic meters of concrete poured into the site. The scale was unprecedented for France, especially with immense roof planned to hover above 80,000 fans. The cover, resembling a halo, weighs 13,000 tons and covers 6 hectares, protecting both fans inside and in direct vicinity of the stadium! Since it's hovering 46 meters above ground level, it's particularly impressive from the pedestrian perspective and, as we prefer, illuminated at night.
Construction of the stadium itself had cost €290 million (122m for the structure, 45m for the roof and 122m for all systems/equipment). Although, with associated costs it reached €364 million. Half of the sum was paid by the French government, the remainder by two general contractors who then received rights to manage the stadium for 30 years. And each of these years the building will receive a fixed public subsidy to remain profitable.
Euro 2016 investment
We could as well leave this space empty, because even UEFA gave the official cost of tournament improvements at… €0. Of course minor alterations had to be made, but overall the price is nothing compared to other venues or the stadium's initial price tag.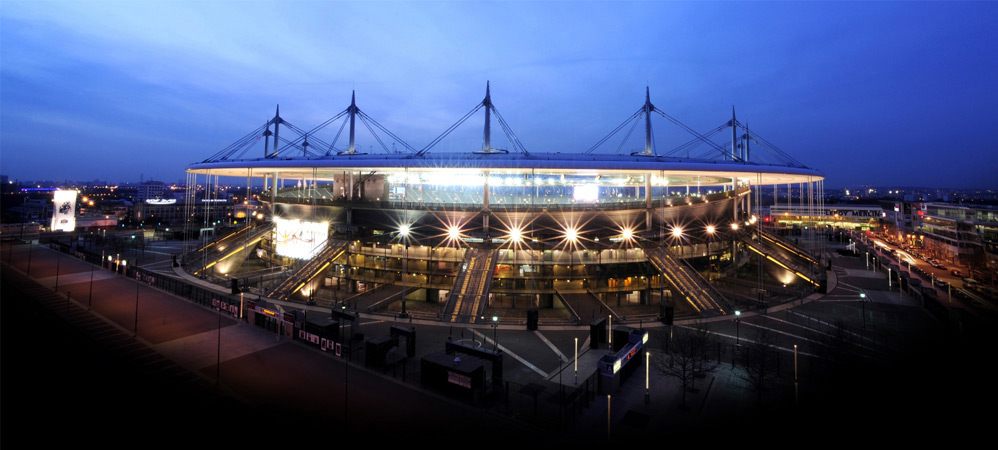 Location
St. Denis wasn't selected randomly, of course. It was the perfect site due to crucial routes intersecting here. Autoroute du Nord runs into the heart of Paris and up north, while the A86 ring-road allows people from around Paris to find the venue with ease. There are also two light rail stations within 700 meters and the subway line no. 13 running within 1km from the stadium. All of these features make it able to serve 80,000 people in a short time.
Architecture
The stadium's issue (or advantage? Depends on your taste) is that it was built just a couple years before stadia began being designed with impressive multimedia facades and more festive aesthetics. Compared to Allianz Arena and its equivalents, this stadium offers more rough aesthetics. The solid concrete seating bowl is enveloped with promenades protected only by metal mesh and bare staircases leading to the stadium.
This raw feeling is somewhat contrasted by the smooth roof, levitating lightly despite its massive size. Supported by 18 slender pylons, each rising 60m above ground, the roof is Stade de France's signature feature. In fact, were we to criticize anything in the stadium's aesthetics, it would be the huge advertising covering parts of the building on regular basis…
Stands
First and most importantly, 80,000 seats is enough not only to hold finale of Euros or World Cups, it's in fact enough to hold any major event. Secondly, the stadium offers 25,000 retractable seats (particularly revolutionary back in 1998) which are brought 15 meters close to the field for football/rugby and can be pushed back for athletics, losing some 3,000. The structures are moved manually (it takes 80 hours) and allow the stadium to bid for the Olympics, doing which was always part of the design. Ironically, Paris remains the most unlucky candidate city in recent bidding procedures.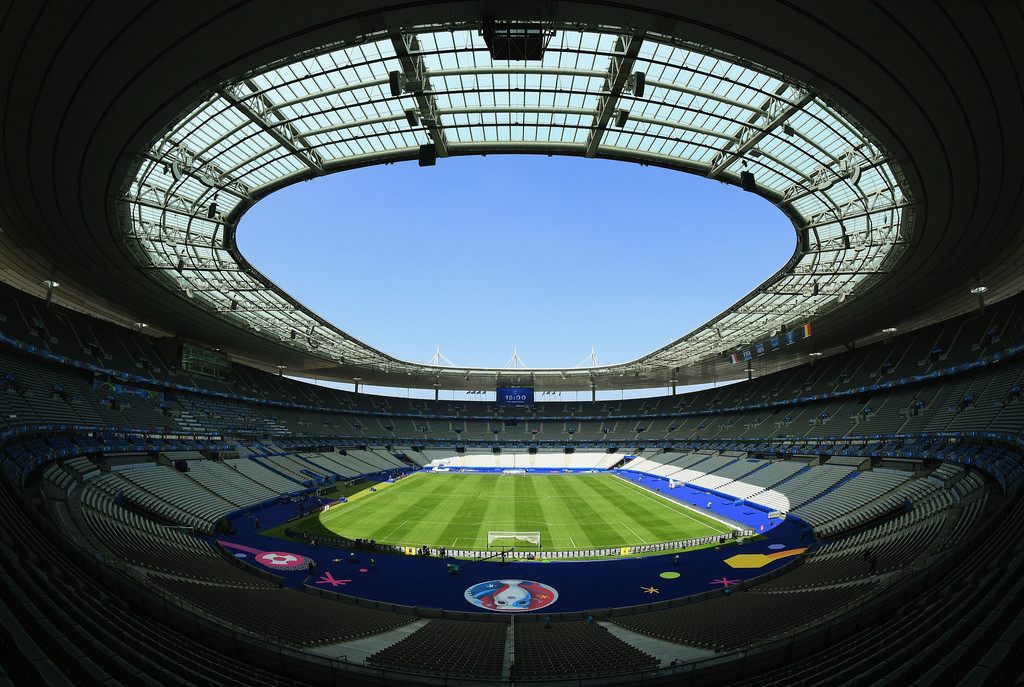 Above the retractable seating there's a belt of private suites, aided by large business spaces within the west side. The seating layout is as good as it could have been at the time of creation and with athletics being part of the scheme.
Euro 2016 games
| Game | Time (local) | Stage |
| --- | --- | --- |
| France – Romania | 10/06/2016 21:00 | Group A |
| Ireland – Sweden | 13/06/2016 18:00 | Group F |
| Germany – Poland | 16/06/2016 21:00 | Group C |
| Iceland – Austria | 22/06/2016 18:00 | Group F |
| ?? - ?? | 27/06/2016 18:00 | Round of 16 |
| ?? - ?? | 03/07/2016 21:00 | Quarterfinal |
| ?? - ?? | 10/07/2016 21:00 | Final |
Legacy use
Taxpayers shouldn't be too bothered by the stadium as the public subsidies are fixed and generating revenue falls on the private operating company. That's why the stadium has long-term contracts with national teams in football and rugby, hosts numerous concerts and sporting events in other disciplines.
In recent years a serious threat to its profitability arose. The rugby federation is hoping to build their own 80,000-seater with better facilities. Not only would Stade de France lose one of their key tenants, but also gain very strong competition in hosting entertainment events…