Albania: Demolition ongoing for new national stadium in Tirana
source: StadiumDB.com; author: michał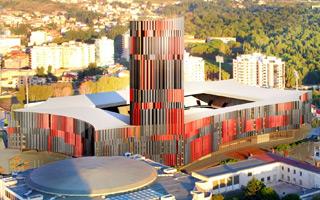 While their national team is doing better than expected at Euro 2016, back in Albania the old national stadium is being demolished to make way for its successor.
During its heyday the old national stadium in Tirana was able to hold almost 40,000 people, then its size went down to 16,000 after conversion to individual seats. Now it's officially zero, because majority of the old stands are already turned into rubble. Demolition has begun in recent days to make way for the new stadium.
Current works are a prelude to what was promised numerous times over the last decade. The eventual stadium will be smaller than suggested earlier (22,000 instead of 33,000) and somewhat less costly (€50 million instead of €60m), but it's getting built, which matters most.
The Category 4 stadium will be delivered in public-private partnership by AlbStar. It's design comes from Italy, just like the previous one's. A vivid outer form with red-black façade and a tall tower along the west stand is unlike any other stadium, but of course the practical value is more important than aesthetics. The building will offer some 18,000 m2 of floor space for office and commercial use, partly used for the Albanian Football Federation offices.