Qatar 2022: Second death on World Cup stadium site
source: StadiumDB.com; author: michał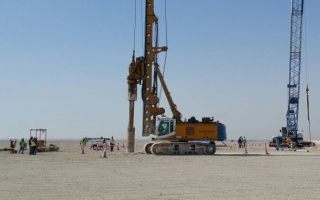 During the weekend organizers confirmed the third stadium-related death in Qatar, second to occur directly on a stadium site. Cardiac arrest was named as cause.
On Wednesday a worker died at Al Bayt Stadium construction site. 48-year-old Jaleshwar Prasad from India "fell ill", as official report says. He received first aid treatment until paramedics arrived. He was transferred to Al Khor Hospital but passed away around 11.30am.
Prasad is the third officially confirmed person to die in relation to stadium project in Qatar, but the second one to die while working. Third worker was found dead in his accommodation.
This account is the only one available for the World Cup stadium sites. However, Qatar's labour abuse has been an ongoing theme for several years now, even before preparations for the tournament began.
Various organizations and journalists base much more severe estimations on number of deaths reported by ministries/consulates of countries with largest numbers of migrant workers in Qatar. Cardiac arrests like this latest case are very common due to extreme weather conditions.
Most recent report by Amnesty International suggests there's still a lot of work to be done, but conditions for workers are indeed improving as the largest sporting projects enter actual construction phase ahead of the World Cup.