New stadium and design: Spanish Cinderella's makeover
source: StadiumDB.com; author: michał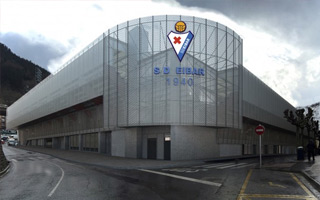 It's the smallest stadium of Primera División and will remain in that position even after expansion. But as a public space it will improve daily life for both SD Eibar and the local community.
Last night we've added a new stadium and design to our database. We've been missing that one for months and now that SD Eibar secured their survival in Primera División it's high time to make amends.
You may know Estadio Ipurua from dated photos showing residents of high-rise buildings watching games from their windows. You may know it as Spanish league's smallest stadium, but there's more of a story to tell. Especially now that the field built on a slag heap in 1940's is turning into a modern multi-use arena.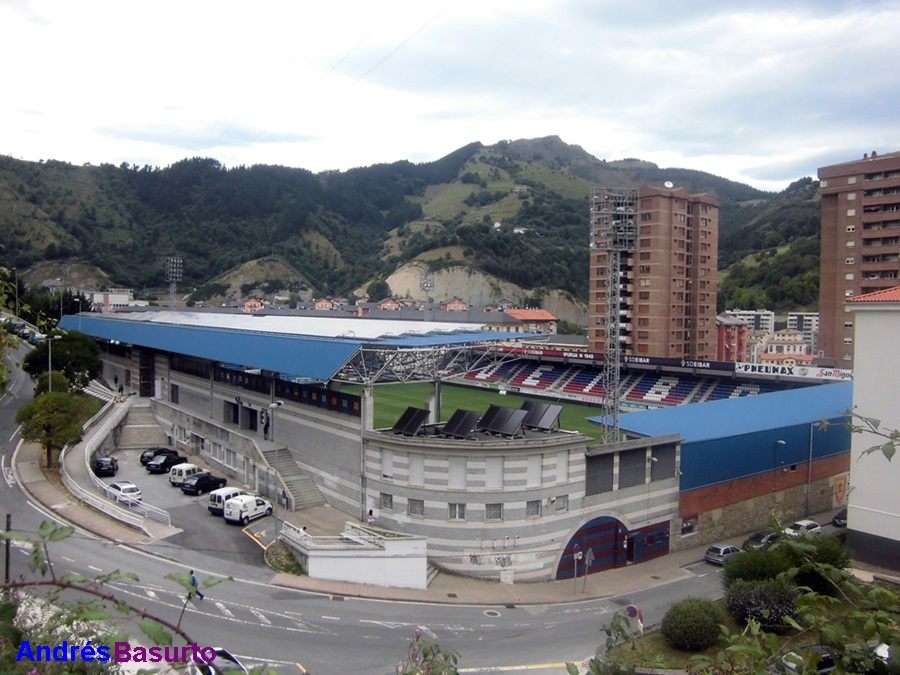 © Andrés Basurto
Huge challenge: little space
It's not only a big issue for SD Eibar, but for the entire Basque town. Lack of space is so severe that one might wonder how they managed to squeeze in both a stadium and training field. Although, to be fair, to this day Ipurua doesn't have a full-sized football field, missing 1 to 1.5 meter on every side.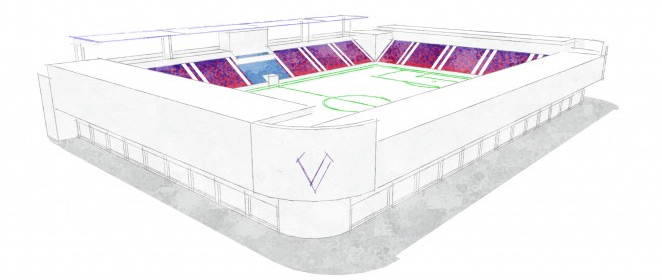 © SD Eibar
No wonder that the stands are small, too. The old north side, demolished last year, had only 3 rows not to encroach onto a street. Now it's completely different as a new structure was built within just over a year (and opened by Vicente del Boque himself!). Overhanging the sidewalk, the new grandstand has 11 rows (1,230 seats) and was created with additional floor space on street level, enough to house a large classroom.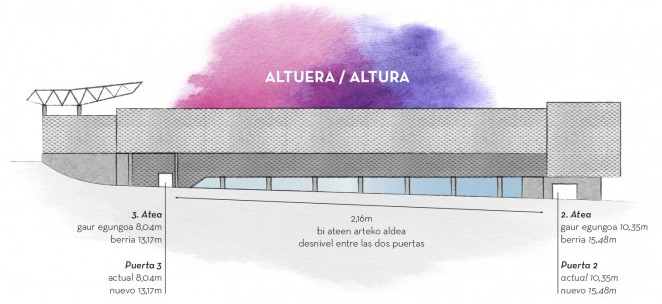 © SD Eibar
Similar overhanging structure will be created behind the eastern goal. Just as this season ended in May, demolition of the old stand began and already now construction work is beginning. Time is of the essence if SD Eibar are to benefit from additional 1,100 seats before autumn. Last stand to be built will be the west end with 813 seats, scheduled for next year.

© SD Eibar
But even with all expansions and only the south side remaining of the old stadium, Ipurua will fail to meet the minimum capacity requirement for Primera División stadia (15,000). Its final capacity will be 9,410 and Eibar are hopeful this wouldn't pose a major problem should they remain in the league longer than a couple seasons.
Benefits for the community
The first grandstand along the northern side was financed entirely by the club (€2.23 million), but remaining phases will be carried out mostly by local authorities. As this project is a public-private partnership, it's crucial that the taxpayers also benefit from created facilities.
© SD Eibar
Apart from the classroom created under the north side, there will be a museum and restaurant (both under the east end), as well as additional educational facilities. Altogether there's 9,000 m2 of floor space planned for both the club and community. Residents will also benefit from 280 parking spaces built partly under the stadium, a vital number for daily use in this area with almost no parking sites.
The parking site will come as phase four (following the west stand, in 2018), while phase five will include a new training field and almost 3,000 m2 of leisure space for the public. All in all the project will consume over €22 million by 2019, of which the club should cover no more than €4 million (or 17%).