New design: Ultralavish gem from Dubai
source: StadiumDB.com; author: michał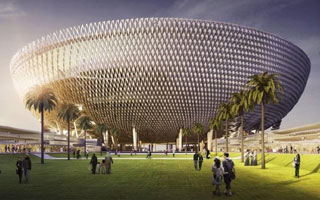 It's what you'd expect: ultramodern, visually appealing, not really necessary and so wasteful. And of course the stadium will be named after Dubai's ruler, as is tradition as well.
This week Vice President and Prime Minister and Ruler of Dubai His Highness Sheikh Mohammed bin Rashid Al Maktoum personally selected the best design for Dubai's new 60,000-capacity stadium. First: yes, his royal title is really that long. And second: the stadium will be named after the sheikh, thankfully not with the full name.
So what did the sheikh select? The concept of a brand new football stadium in southern Dubai foresees the creation of a first ever stadium hanging above ground, based on a system of pillars supporting a hemispheric bowl in place. Spectators will be able to enter the building via 8 staircase towers and additional escalators and elevators.
Thanks to the idea of stadium being lifted, tourists and residents will be able to walk directly under the field, through a vast public plaza stretching into a recreational park beyond the stadium. This wide avenue will become the main axis of the planned complex.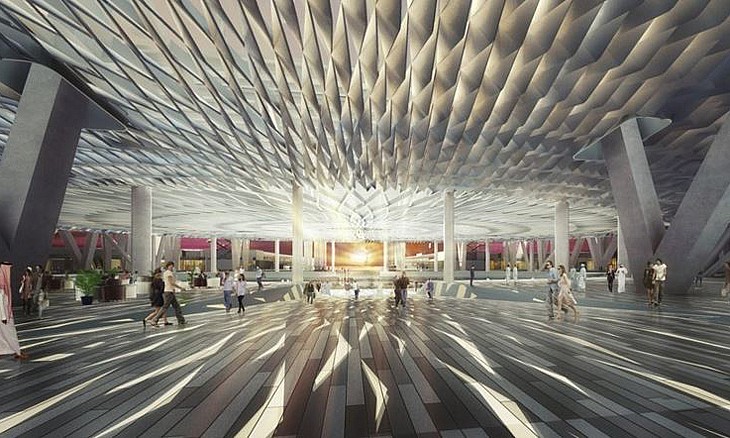 Outer cladding should be perforated and lightweight, just like the proposed roof, which will be completely invisible from pedestrian perspective. Inside, fans will enjoy illumination of the roof membrane, aiding the atmosphere. Still, with excessive corporate zones (1,642 VIP seats and 8,941 business ones) atmosphere might become an issue in the end.
Outside the building fans will choose between a concrete plinth with additional sports facilities on the surface and commercial spaces underneath. This is also where a 1,500 m2 museum will be houses, as well as 5,000 parking spaces.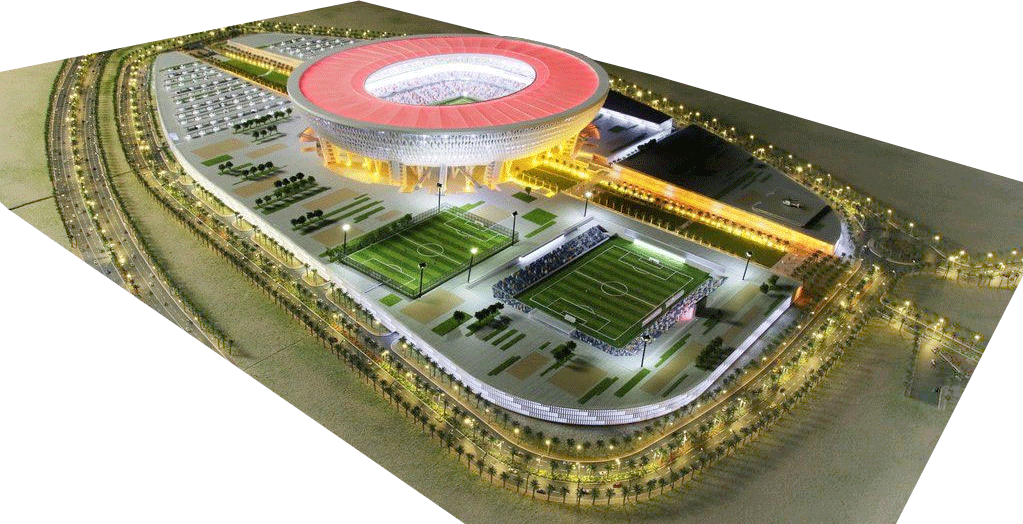 As wasteful as you'd expect from Dubai
It's not just about the stadium's expected price being blown out of proportion, because in all fairness we've seen far more expensive stadia with far less imaginative architecture. This one is priced at AED 3 billion ($817 million), which even without all the surrounding uses wouldn't be close to major NFL stadia.
That said, there seems to be little purpose in lifting the stadium up, if not for the wow-factor alone. Of course the stadium will become a landmark, but it should be remembered that Dubai already had begun construction of a 60,000-seat stadium at Dubai Sports City.
That project was eventually halted indefinitely and won't be delivered, because there's a newer, better plan – this one. And this one is going to be built at Al Aweer, where the Dubai Club sports complex has to be torn down to make way for this new stadium. Which would still probably be all well and good, except there's no actual football demand for a stadium of this scale in Dubai.