Moscow: Otkritie Arena will never pay for itself
source: Sports.ru / Stadiums.at.ua; author: michał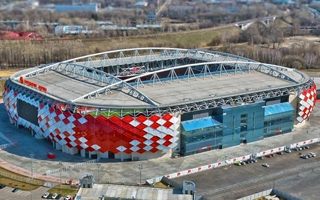 General director of Moscow's most modern stadium leaves no doubt: there is no chance that the arena will generate enough revenue to recoup construction cost.
Spartak Moscow will soon conclude their second season at Otkritie Arena, currently Moscow's most modern and largest stadium. The team average just under 27,000 people per game, which – while the best number in Russia – represents only 59% of the stadium's capacity.
As of today, Otkritie Arena is not out of the red, the stadium runs on a loss. General director Andrey Fedun confirms that the building will never pay for its construction cost of RUB 14.5 billion (roughly $395m back in 2014).
"According to our calculations, it'll never generate enough. If the country's economic situation improves, if we have stadiums with 90% occupancy and if average ticket price was £60 like in England, then we could hope for return on investment in 25 years", Fedun said. But then added that in 25 years the stadium will need major upgrades, so even that wouldn't cover it.
Fedun's declaration comes as no surprise, because Otkritie Arena wasn't built with return on investment intended at all. The stadium's primary goal was to boost revenue for Spartak and that's already the case. The club covers 25-30% of its budget with ticket sales.