Berlin: Hertha to move outside the capital?
source: RBB-Online.de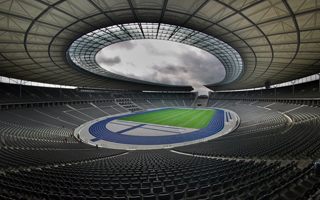 Brandenburg prime minister invites Hertha Berlin to build their private stadium outside Berlin. The offer couldn't be better timed as Hertha are facing massive lease increase for Olympiastadion.
Last week the prime minister of Brandenburg (state around Berlin) invited Hertha Berlin officials to consider locating their private stadium outside of the city, in Brandenburg. "We have working infrastructure, nice environment, motivated workers and hundreds of thousands of Hertha fans", said Dietmar Woidke, himself a devoted Hertha supporter.
This somewhat unusual invitation has a precedence. Back in 2008 there was a scheme focused on building Hertha's stadium south of the city, in Dreilinden. Of course regardless of the final location, accessibility of main avenues leading into Berlin and the city's ring-road are crucial factors.

Photo: La Citta Vita (cc: by-sa)
For Hertha it's a great moment to hear such invitation as the city of Berlin is opting to drastically increase lease for Olympiastadion. The club recently began talks on the new conditions with Berlin senate and the stadium operators, so far ending with manager Michael Preetz expressing his "shock" upon hearing the proposed new lease terms.
It's reported, and partly confirmed by Hertha, that the club's lease would increase from current €4 million to as much as €7.5 million and on top of that they would have to obtain catering rights for additional €1.5 million. With €9 million annually over 15 years, this would mean Hertha could spend up to €135 million ($155m) on staying put at Olympiastadion.
The club have already began analyzing the feasibility of relocation. So far no potential sites have been indicated, but for the first time in years it seems the club are ready to put actual work and money into an alternative to Olympiastadion.