Vilnius: National stadium for Lithuania's centenary?
source: ZW.lt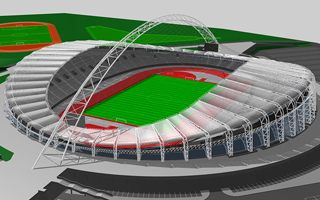 The Lithuanian government and local authorities in Vilnius agreed final terms and are ready to launch a tender to find the private partner and deliver the new national stadium. Just in time for 2018…
It seems finally there's consensus between the Lithuanian government and Vilnius municipality regarding the national stadium.
"We've settled on all dates and works, what the country is responsible for and what the city is. We reached agreement on contentious issues", said Jūratė Juozaitienė, advisor of the prime minister.
According to Juozaitienė, delivery of the unfinished stadium should cost €79 million ($90m). That said, final price tag will depend on what the private partner will require and might reach €100 million.
Along the current scheme, public authorities will launch a tender to find a private partner who will deliver and operate the stadium for 22 years, later transferring it to the city. That partner might decide to build additional buildings, be it residential, hotel or other use, to assure revenue would be generated. That's why the price may still change.
Authorities hope to launch the tender in June, which would leave enough time to build the notorious stadium in time for 2018, when Lithuania will celebrate the centenary of its independence.