Spain: Hotel hanging above the stands in Malaga?
source: Marca.com / Hosteltur.com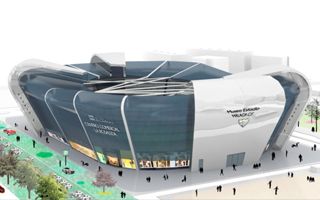 Can you imagine 160 rooms hovering above the auditorium? Now you don't have to, because Grupo BlueBay launched a campaign to build such a hotel above the expanded La Rosaleda in Malaga.
Grupo BlueBay, operator of hotels and resorts in many countries, released a proposal to expand Estadio la Rosaleda. The proposal would include a hotel literally built above the stands. But instead of enthusiasm, the concept caused mixed reactions.
Why? First of all, the idea wasn't consulted with Malaga CF and their current owner, the Qatari businessman Abdullah Al-Thani. Why should he be interested in such plans? Here Grupo BlueBay has some tempting numbers: annual revenue from expanded stadium might reach €60 million ($68m).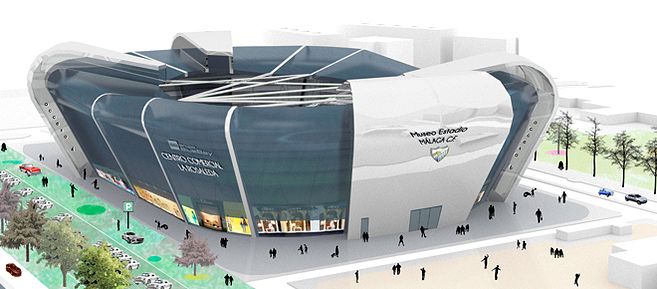 The way to reach such ambitious goals is expansion of the stands and diversification of revenue streams. Current stands holding roughly 28,900 people would receive a third tier that would increase capacity to 47,000 seats. Underneath the stands additional commercial zones would be created, including a spa and shopping outlets.
Of course the most significant addition would be a vast hotel with 160 rooms. According to preliminary renditions, these rooms would literally hang above the third level. On matchdays each could serve as a skybox for up to 10 people, providing 1,600 additional corporate seats.
For BlueBay creating such a large hotel at La Rosaleda is the single best location within midtown Malaga. However, accommodating all the additional uses and and additional 500 parking spaces (currently extremely scarce) would require covering the riverbed of Guadalmedina with a ramp.
And even if the currently released renderings surely don't present an actual design (rather a simplified model), they surely get imagination working with the idea of 160 rooms overhanging the stands. Interestingly, Grupo BlueBay stated the plan was ready in 2013, but was on hold for legal reasons.