Portugal: Policeman charged for assaulting a fan
source: AP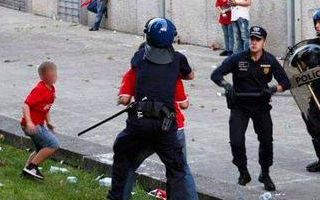 You must have seen the video clip from this incident. Now, almost a year after Benfica fan was beaten up and arrested without reason, the policeman may face up to 10 years in prison.
In May 2015 Benfica secured their championship during the last away fixture in Guimarâes. Hoping for celebratory mood, 42-year-old Jose Magalhaes took his two sons (then 9 and 13), and father (66) to the game.
After full 90 minutes, when the regular contingent was held longer until local fans disperse, Magalhaes and his companions were let out earlier so that the boys could get some air. This is when they were approached by a policeman and this happened:
What sparked the aggression? The officer approached all four Benfica fans and reportedly expressed his anger with Magalhaes taking children to an away game. The father, also emotionally, said that he takes his kids where and when he sees fit.
He was thrown to the ground, while the same policeman also punched his 66yo father twice in the face. After being beaten and denied the right to comfort his crying children, Jose Magalhaes was handcuffed and arrested, facing the charges of "threatening behavior and obstruction".
During a preliminary hearing the policeman accused the Benfica fan of spitting at him. As it turned out, he lied both in his statement and post-match report. Possibly the most crucial piece of evidence in the case was the very clip you saw, which went viral, caused outrage across the country and prompted investigation into the officer's conduct.
Now, almost a year later, the policeman is charged with use of excessive force and lying in his statements. He may face penalty ranging from a fine to over 10 years in prison, depending on the court's decision.