Manchester: Sir Bobby got his stand at Old Trafford
source: StadiumDB.com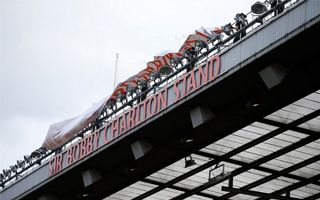 From yesterday onwards, the south stand at Old Trafford will be named Sir Bobby Charlton Stand, honouring the man who played over 600 games for United.
Ahead of yesterday's game against Everton, there was a special ceremony at Old Trafford. Sir Bobby Charlton entered the field with his wife, welcomed by a giant "Sir Bobby" choreography by fans on the north side. Then the red-white-black choreo grew to cover all of the stands.
Red letters reading Sir Bobby Charlton Stand were then revealed on the inner edge of the roof as the legendary player had trouble hiding his tears. He's the second club icon to have his own stand after the north side was named after Sir Alex Ferguson.
Now 78, Bobby Charlton played 756 games for Manchester United, spending almost all of his career there and scoring 249 goals. He was also a major national team player with 106 fixtures and 49 goals scored.
As a reminder, the newly-named Sir Bobby Charlton Stand would be the first up for expansion, should Manchester United follow the recently revealed scheme. Its current capacity stands at 9,800 people, with a new upper deck it could exceed 17,000.