Germany: Contractors invited to bid for SC Freiburg stadium
source: StadiumDB.com; author: michał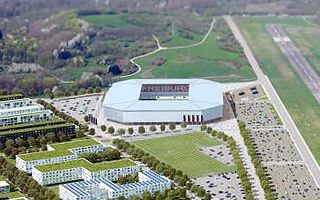 Qualification stage began for the new 35,000-capacity stadium in Freiburg. In mid-2017 construction should be launched and by late 2019 SC Freiburg will play at their new home.
Companies interested in designing and building the new Freiburg football stadium are invited to express interest by May 10. Municipal subsidiary Stadion Freiburg Objektträger GmbH launched initial tender for the new stadium.
Among the contenders up to 10 will be selected to create design documentation and construction bid. List of parties invited to the final proceedings will be published on June 1.
The new stadium will hold up to 35,000 people (including safe standing) and is required to offer no less than 2,000 parking spaces. Additionally and independently from the football function, it's also expected to house 800-1600 square meters of offices under the east stand. All of these uses should cost no more than €80-90 million (or $90-100m).
Should everything go along plans, the design+build tender will deliver an outcome in mid-2017 and construction should be launched soon after. Authorities expect 24 months to be enough for the project's delivery, which means SC Freiburg could move in for the 2019/20 season.
So far only these two schemes below were released for the site, prepared by ProProjekt and Albert Speer & Partner. The stadium with additional uses (including training fields) should occupy 145,000 square meters along the runway of Wolfswinkel airport in Freiburg. Additionally, a new residential estate is planned in the future.