Amsterdam: More details on Ajax's standing section
source: FSF.org.uk; author: michał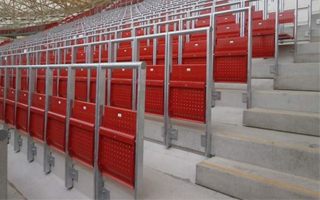 Good news: the pilot standing section will be much larger than we thought. Bad news" Amsterdam ArenA's capacity won't grow, at least in the initial phase.
Speaking to FSF.org.uk, Ajax Head of Safety Joris de Lange gave further information about the standing section at Amsterdam ArenA, to be opened for 2016/17 Eredivisie season.
Main difference regarding our initial text on this issue is the scale. Not only the central sections, but the entire lower south stand will be converted into a safe standing area. Equipped with the so called rail seating system, it will offer fans seats built into railings.

In central sections of the stand these seats will be locked permanently, because fans stand there all the time. But on the sides supporters will be able to open the seats if they prefer to sit during games.
The greater scale is good news for fans, but there's also a worse one. Even though the law allows it, capacity of Amsterdam ArenA's south stand won't grow. It might safely increase by 400 people, but at least for now the club decided not to allow more people inside. "Manageability and safety are our main priority at this initial stage," says de Lange.