Sweden: Police brutality is no foul play?
source: Offside.org; author: michał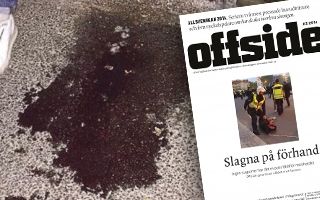 Football safety is usually associated with hooliganism. But what happens when the supporter does nothing criminal and yet gets beaten up? In Sweden – nothing. As if it was part of the matchday experience.
The Swedish magazine Offside published a brilliantly written investigative report by Oskar Månsson (unfortunately only in Swedish) on the outcome of police brutality. Or heavy-handed policing. Or overzealous approach. Or manhandling fans. Call it as you want, but if the result is someone lying unconscious in his own blood, there's surely something wrong going on. Well, apparently not in Sweden, where there has never been a conviction for a police officer's violence against fans.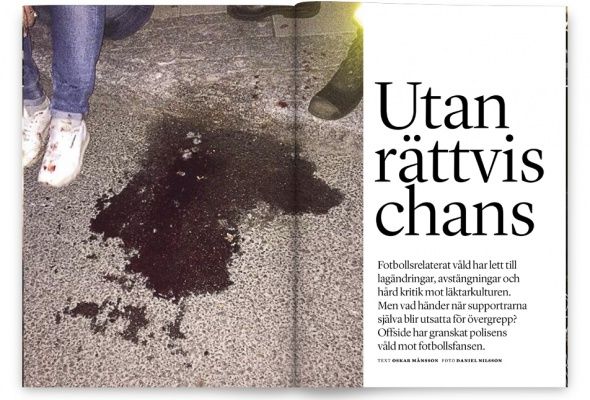 And it's not like it's always peaceful. Despite a number of commendable measures being used in Sweden (SLO's in clubs, grassroots fan organisations doing self-policing or police officers specialized in dialog and de-escalation), there are still some disturbing incidents taking place. Of course there's aggression in the stands at times, but there's also aggression among policemen. Which does seem predictable when you consider the extreme stress it takes to police some games. Not all decisions are great, not all actions justifiable. Or are they?
Martin wasn't even interrogated
31-year-old Martin Lundgren is a recognizable person among Djurgården supporters and to some extent he became recognizable nationally after last October video of him being hit twice in the head by a policeman at Tele2 Arena got its fair share of attention in the media.
He was squatting with hands over his head after failed attempt to prevent confrontation between fans and the police. He received two hits with a baton, resulting in bruising across the head and neck, sprained finger and an eye injury.
He filed a complaint only to learn in January from a media report that the case was dismissed. That's not the shocking part: it was dismissed after "failure to identify the supporter being hit"! How can you fail to identify the plaintiff complaining? Martin wasn't interrogated at all, not even contacted.
Offside asked the prosecutor Eva Finné why that would be the case. Having used "I don't know/remember" over 10 times in a short conversation about a recent case, she added that "Apparently I felt [listening to the plaintiff] wasn't needed". Martin eventually received full documentation of the game's policing and read the report by officer in question, who regarded his use of force as justified and denied hitting him in the head.
The Offside report covers several other controversial incidents from recent months. Marko, 26, was knocked to the ground at Friends Arena parking, then repeatedly hit with a baton and kicked. His case is ongoing.
Erik, to make him leave a site faster, was hit in the legs and then in the head. That last strike caused heavy bleeding and loss of consciousness, but the prosecutor argued he could have gotten that injury from falling onto the ground. Leg injuries were seen as appropriate use of force.
Scale remains unclear
While these are surely rather uncommon incidents in terms of gravity, there's no solid data on how often cases like these occur. Håkan Roswall from the Special Prosecution Office claims there used to be a lot of complaints from fans. Up to 20-30 after major high-risk fixtures. Now it's more like 2-3 per game. Why?
"It's difficult to answer unequivocally. But to some extent it's the experience of many fans that it's pointless. If indictment is brought, which almost never happens, the case will be dismissed in court", says Roswall.