Iraq: Suicide attack after football game near Iskandariyah
source: Reuters / CNN / Diken.com.tr; author: michał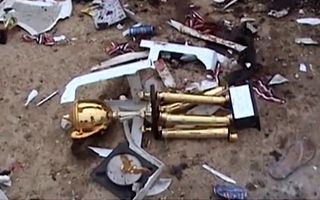 Several hundred people around the field and a suicide bomber among them. When awards were to be given to the players, he detonated the bomb, killing no less than 41 people.
Yesterday around 7pm local time a horrific scene unveiled in Al-Asriya, near Iskandariyah, a major town south of Baghdad. After amateur football game awards were to be given to players, when a suicide bomber detonated himself near the heart of the ceremony.
Initial information gave the death toll at 29, at the time of publishing we also had unconfirmed information of up to 45 victims. However, at this time the official toll is 41, mostly teenagers. The number of people injured also seems to be rising from the early 60 to as many as 100. 12 of them are in critical condition.
Due to the attack occurring before the award ceremony, there were many viewers filming it with their phones. The disturbing footage from different angles suggests that the attacker tried to get close to the congested crowd near the trophy table. Since it was an amateur playing field, there were no precautions in place that could have stopped him.
Soon after the attack the so called Islamic State admitted responsibility. In recent days ISIS suffered significant losses in Iraq, which may be why a bomber was sent into the rather calm central part to attack civilians.