Russia: Bizarre Lamborghini monument on fire
source: Stadiums.at.ua / StadiumDB.com; author: michał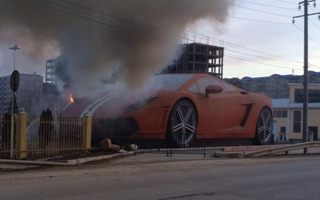 Well, that's a first for us. This giant replica of Lamborghini Gallardo stands in front of Anzhi Makhachkala stadium caught fire late last week.
Just before the weekend, a strange accident took place in Kaspiysk, Russia. On Thursday afternoon locals spotted smoke coming from inside the Lamborghini Gallardo monument standing next to Anji Arena. Before firefighters managed to extinguish the fire, significant damage was done to the installation.
Cause of the fire isn't clear at this point, though electrical system inside it may be at fault, because the "monument" had operating lights.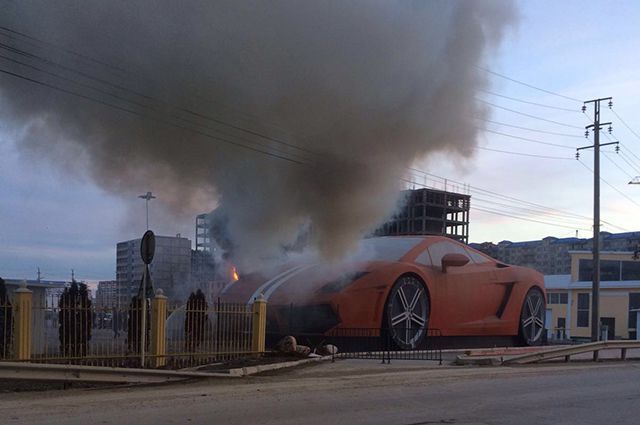 Just like cause for the fire, reasoning behind building the immense car replica remains somewhat unclear. The car is 25 meters (82 feet) long and 7m tall (23f) and was built in 2015, founded by the management of the stadium.
It's expected to symbolize power and speed, celebrating Anji's promotion back to the Russian top flight. Although even local "Dagestan Segodnya" argued that connection between the Dagestani club and Lamborghini is "difficult to comprehend".
The odd monument was to be included in Guinness Book of Records soon, but the fire forced the plans to be put on hold.