Liverpool: High demand for last Hillsborough service tickets
source: StadiumDB.com; author: michał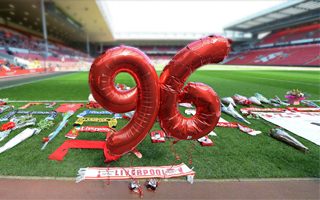 This year's Hillsborough memorial service at Anfield will be the very last organized inside the stadium. This significantly increased ticket demand.
Earlier this year the Hillsborough Family Support Group (HFSG) announced that the planned April 15 memorial service will for the last time be held at Anfield. After 26 years the anniversaries won't be commemorated inside the stadium any more.
"We've had the new inquests and the families always wanted to keep the services going for as long as it took to get the old inquests quashed and get new ones. We've done that and I think it's the right time now to draw a line." said Margaret Aspinall, who lost her 18yo son in the 1989 disaster.
The announcement caused ticket demand for the service to soar well beyond recent years. Liverpool FC will handle applications until March 31, either by phone or email. Tickets are free of charge.
The final memorial service will be held at 2:45-3:45 on April 15. Exactly at 3:06, when the rescue efforts began in 1989, a minute of silence will be observed by crowds inside the stadium.
Tradition of holding memorial services at Anfield began as fans transformed the stadium into a large altar directly after the disaster which claimed 96 lives. Services accompanied years of campaigning for justice after the massive cover-up operation by local police. Now that a new inquest is ongoing, HFSG unanimously decided it's time for closure.