Germany: Harsh criticism of Essen after stadium takes museum's money
source: reviersport.de; author: michał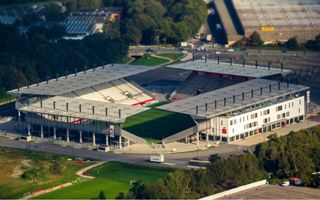 Covering the deficit created by newly built stadium forced the city of Essen to deny funds to a local museum. This outraged many citizens and earned the city the Pannekopp anti-award for biggest fail.
During ongoing carnival in the Ruhr, municipal authorities of Essen were selected to bear a 28.5kg medal made of scraps of steel, the Pannekopp. It's a burden of shame "awarded" for major publicity fails, this time earned by the city's stadium funding deficit.
Stadion Essen was opened in 2012 and has since only generated additional cost. Organisers of Pannekopp estimate that it consumed €50 million instead of €43m that were contracted, while annual maintenance cost stands at €1.6 million. Meanwhile Rot-Weiss Essen pay only €100,000 in lease for the stadium.
In attempts to salvage the project's financial situation local authorities decided to transfer funds (€1 million) previously assigned to modern art museum Folkweg to cover the deficit. It's this decision that caused great criticism of the art society, though criticism of the stadium's financial model seems valid overall.
Rot-Weiss Essen were hoped to advance after getting a new stadium, but the club still struggles in the 4th league, only at regional level. While crowds of 8,000 are surely impressive for this tier of the league system, it's not enough to make the stadium successful in economic terms.