England: Liverpool bends under fan pressure
source: StadiumDB.com; author: michał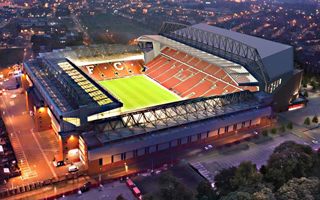 Once they saw thousands of fans leave the stadium in protest, Liverpool FC owners came to their senses and did the right thing. Better late than never, you might say.
You didn't read about this latest protest by Liverpool fans at StadiumDB, because in all honesty we didn't believe it would change anything. On Sunday several thousand people left Anfield on the 77th minute of Sunderland game, all protesting the new ticket policy. The sold out game was in the end watched by some 10,000 people less.
Why in the 77th minute? Because LFC announced that tickets for the expanded main grandstand would cost £77 ($112). That would be £18 higher than the most expensive regular ticket at Anfield today.
Understandably, it caused outrage and yesterday Fenway Sports Group (club owners) officially revoked the planned hike and apologised. Liverpool's dearest matchday ticket will now stay at £59, while the highest season-ticket price is also frozen.
Here are a couple quotes from the open letter to fans. "Part of the ticketing plan we got wrong." [...] "We believed... these increases were supportable even in the context of growth in revenues from the new Premier League TV deal." […] "The widespread opposition to this element of the plan has made it clear that we were mistaken." […] "A great many of you have objected strongly. Message received."
Authors of the letter claim they were very engaged in creating the pricing policy and still they hiked the price to unreasonable levels. Meanwhile even we knew beforehand that Liverpool FC fans have been among the most outspoken about their disapproval to extremely expensive Premier League tickets. Even we know that the outrage grew even further after the record Premier League TV deal. And yet owners of LFC claim they had no idea that pushing prices up by 30% might spark protests.
Perhaps not the best phrasing of the apology. That said, Liverpool FC ownership presented a rare level of self-consciousness by accepting the people's vote in the world's most expensive football league.