California: Santa Clara's first Super Bowl
source: StadiumDB.com; author: michał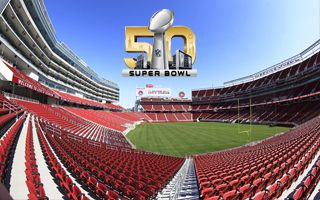 It's the 50th edition overall, but first ever to be held at Levi's Stadium in Santa Clara. During the stadium's first two years it generated perhaps equal levels of enthusiasm and criticism.
In just a few hours eyes of the sporting world (maybe slight exaggeration) will turn to California's Levi's Stadium for the culmination of NFL 2015 season. It's not only the Super Bowl, but it's also the 50th edition, which makes it even more prestigious. The game begins at 00:25 Central European Time (3:25pm local time).
As always, it's a true extravaganza in terms of fesitvities planned. National anthem will be sang by Lady Gaga, half time concert will include Coldplay, Beyonce and Bruno Mars and advertisers prepared their special TV spots which over the years became an event in its own rights.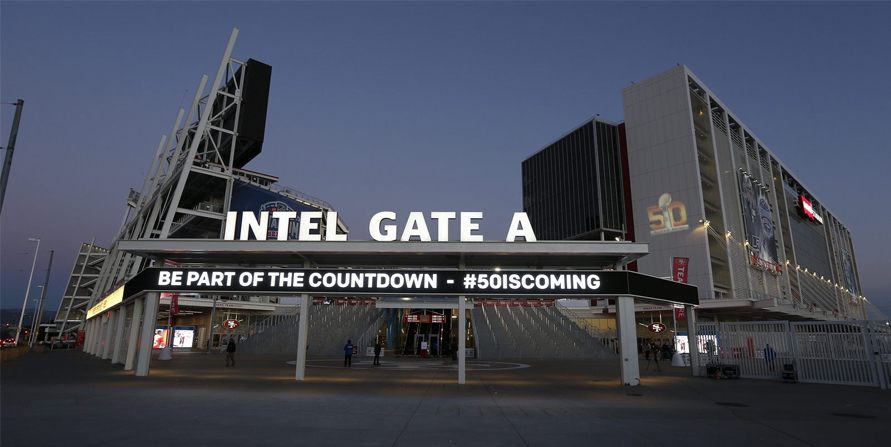 Among all these attractions one might even forget who's playing. So just to make sure: it's Carolina Panthers vs. Denver Broncos with the first side being favoured by bookmakers. And that's all the time we have for football, because we're more focused at the stadium itself, as usual.
Some praise Levi's Stadium
It's one of the most expensive stadiums in world history. The official budget of $1.3 billion (€1.16m) can only be compared to other modern NFL stadia, it's beyond reach of football grounds in other countries.
A gargantuan budget like this should be cause for concern to taxpayers, especially when their local representatives take a $590-million loan to fund the project. But here it doesn't seem to be the case, because all of this sum is to be repaid by naming rights, commercial licenses and other revenue generated by the stadium. And indeed the city of Santa Clara got the most of Levi's naming rights deal, earning almost $160 million. The anchor tenant, SF 49ers are to pay a stunning $24.5 million rent every year for 40 seasons!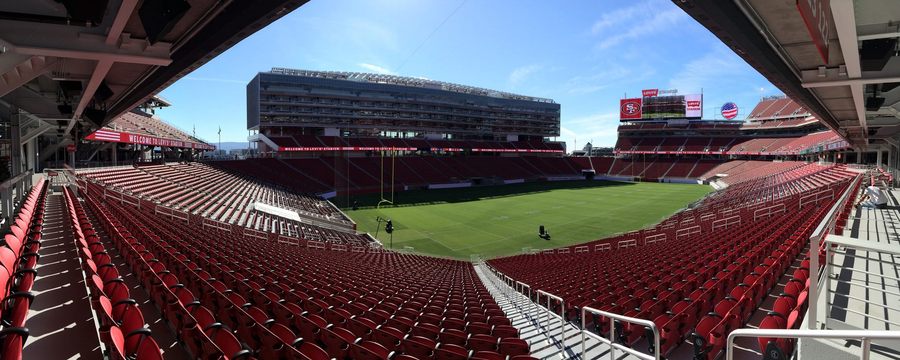 It's not only among the most expensive, it's possibly the most modern stadium around the world. Due to its location in the Silicon Valley, focus was on creating a tech-savvy spectator experience and this seems to have worked. Fans can use apps to check parking space availability, order food and merchandise to their seat, even check the toilet queue. During today's game fans will be able to watch replays, live camera coverage of the event and TV ads on their phones.
Of course as always in new NFL stadia, giant screens were created here, LED ribbons and screens spread throughout the venue improve marketing potential, while fans may enter the stands without walking any stairs, thanks to many escalators. The west side holds 174 skyboxes, while 9,000 corporate seats are spread around the stadium.
HNTB architects suggest the stadium reflects Bay Area architecture, while also using recycled materials during construction. It's airy, well sunny and uses solar power for part of its need (1,900 square meters of photovoltaic panels). Rainwater is also collected for use and the western roof is covered by perhaps the most interesting feature, a garden! With these and other 'green' efforts the stadium received LEED gold certificate.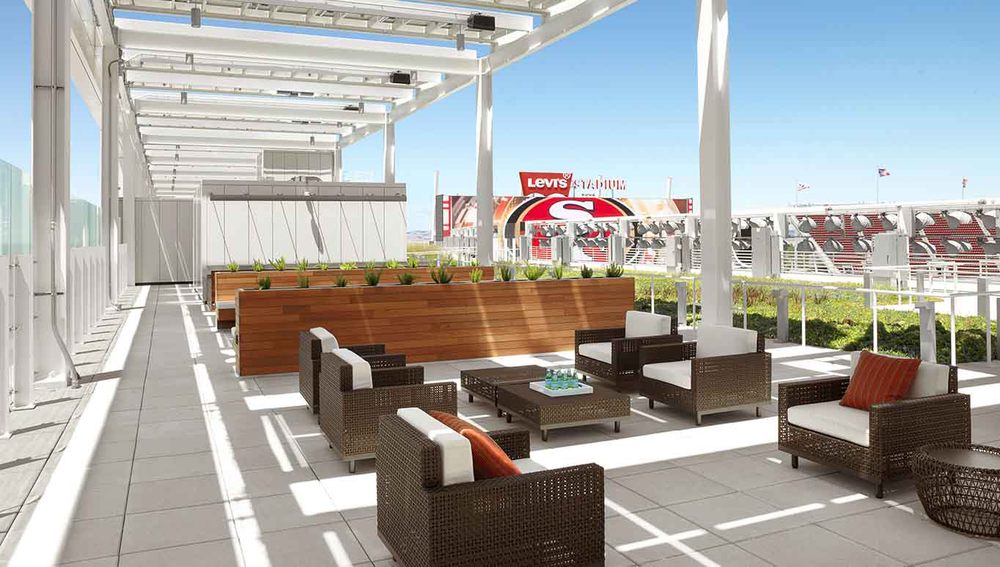 Others despise it
But that's only one side of the story. While architects wanted to make use of California's sun, fans (especially in the east upper seats) often complain about almost unbearable exposition to the heat, making watching the game almost impossible. And yet, even with strong solar exposition, the stadium is known for very low field quality.
That's only the beginning of complaint list. We wrote about how giant screens blind pilots landing nearby, while 49ers fans add many more things to complain about. Because most of the fanbase live in San Francisco, the stadium can take an hour to get to and access routes get jammed regularly. Parking sites available are highly insufficient and very expensive.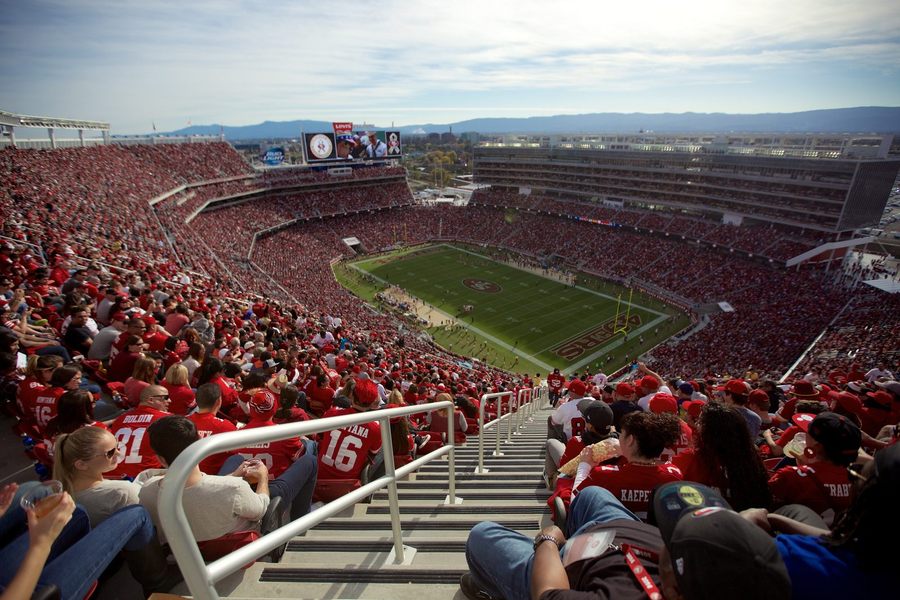 Atmosphere inside is also widely criticised. While only one in three fans uses the mobile apps, there's still little cheering for the Niners. Sterile and commercialized surroundings are listed in numerous complaints online. Even creation of NFL's largest lower tier didn't help in creating a more collegiate, vibrant atmosphere.
Architecturally the stadium also doesn't impress. It looks like steel scaffolding, which in fact is. Without any façade and fairly unsatisfying shape it's just not what one would expect from a $1.3 billion stadium. We've seen attempts at justifying the final effect with claims that it's more like a "mobile app stadium" than regular, but it seems few people share such views. In both our last year's Stadium of the Year votes the stadium was ranked very low.