Azerbaijan: Baku Olympic Stadium opens its doors to everyone
source: BOS.az / Gun.az; author: michał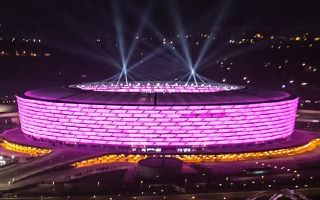 Its splendid, luxurious facilities hosted guests during the 1st European Games. Now everyone will be able to have a taste of the stadium, be it for entertainment or work.
The Baku Olympic Stadium is undergoing a major shift in operation mode. Last year it was all about successfully holding the very first European Games (opening and closing took place here). Now Azerbaijan's largest stadium is operated by the Sports and Youth Ministry and the Azeri Football Federation.
But it won't be restricted to large events any more. On a daily basis the stadium will offer a variety of uses to tourists, sports enthusiasts and even workers. Already now everyone can book a tour of the ground. Mini-training field is available for lease, as are inflated balls for bubble-football experience. From March onwards also paintball will be available for its enthusiasts.

The impressively luxurious facilities in the stadium's hospitality zone are now available for corporate events, conferences and seminars. These may range from 20 to 200 people. Also, on March 19 the very first wedding inside the stadium will take place, marking the beginning of family events held inside the €700+ million facility.
Perhaps most interestingly, the Baku giant also offers co-working spaces. The offer begins with a single desk for a day's use and may include many places with long-term contracts.