StadiumDB.com: What's your favorite stadium of 2015?
source: StadiumDB.com; author: michał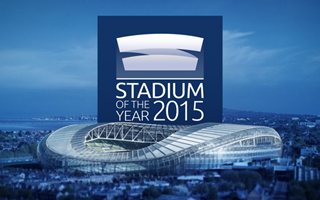 On Monday we begin collecting your nominations for Stadium of the Year 2015. We have our personal favorites, but it's your vote that counts!
As always we haven't mentioned our favorite stadiums opened in 2015 in our recap of the year. After all, selection of the best stadia delivered over the past 12 months is left to you on StadiumDB.com.
So get ready for Monday, when we officially begin collecting nominations for this year's edition of Stadium of the Year. As was previously, in the 6th edition we're opening the process to everyone. Submitting nominees is free and requires only meeting the same criteria as last year.
More about the rules on Monday, from which the nomination process will be open until and including Friday (Jan 11-15). During the following weekend we'll verify the list and compile the final one. Then on Monday (Jan 18) the Public Vote and Jury Vote begin. Details on both votes will be available after we finish the nomination phase.