Stadium of the Year 2015: Meet the nominee – Baku Olympic Stadium
source: StadiumDB.com; author: michał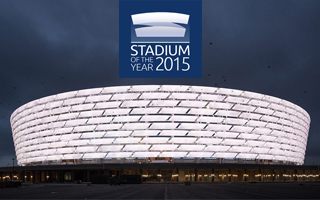 It's a new landmark of Baku and catches the eye, but will it also draw crowds large enough to fill it? It seems that nearly 70,000 seats will be a challenge for Azerbaijan's capital.
It's not easy to believe that what's now a 50-hectare leisure complex was a degraded piece of lake Böyük Şor just 5 years ago. In 2010 desiccation and reclamation began to make way for new use. Reclaiming the land was key due to its central location within rapidly developing Baku.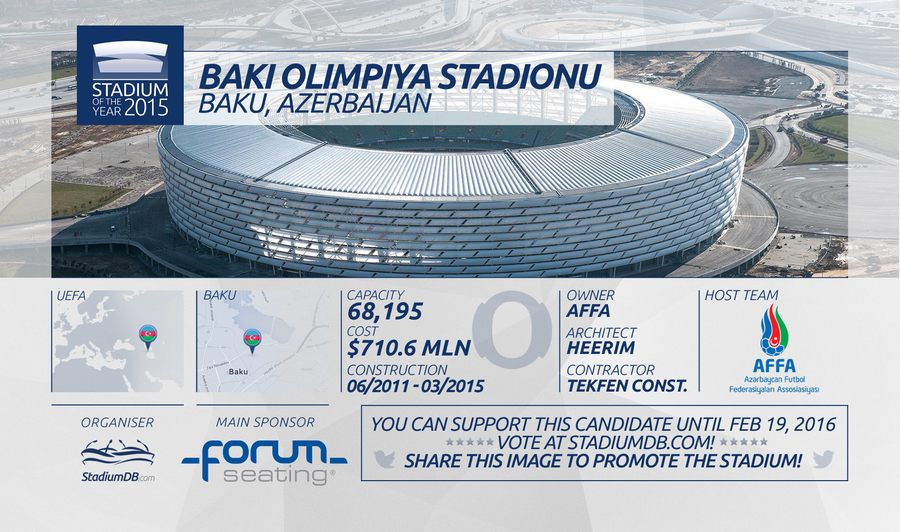 With great road network created around it, the stadium can indeed host large events with up to 70,000 people or even more, in case of concerts. Its first months were impressive as the 1st European Games opened and closed to capacity crowds. Now the stadium is operated by the Azeri football federation.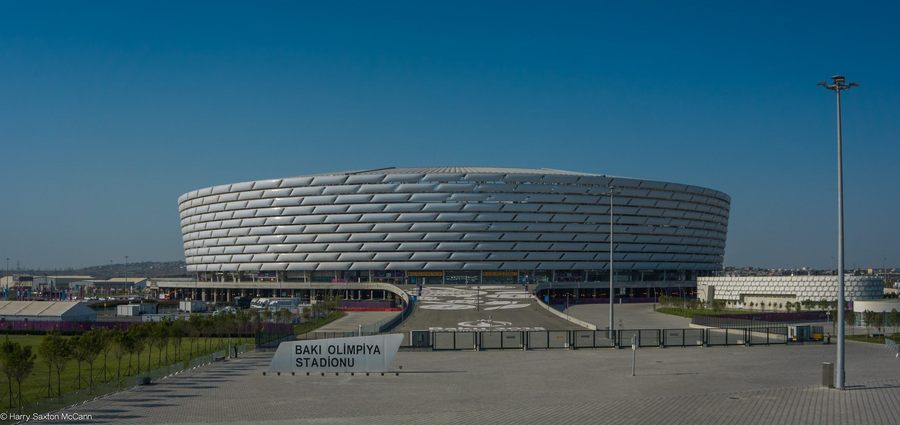 Interestingly, design work on the stadium was launched even earlier than site preparations. Already in 2006 Turkish office TOCA began their operations, but in 2010 Heerim took over and redesigned the entire complex. Due to very tight schedule design was still ongoing during construction.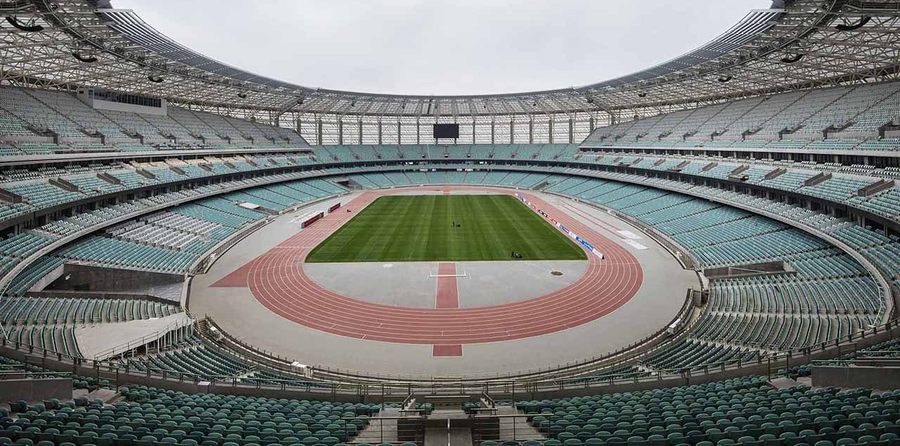 Outer cladding was designed by Thornton Tomasetti, who decided to cover it loosely with ETFE cushions already known from several stadiums. Not building an opaque façade made the stadium easier to ventilate while not impeding its ability to transform into giant screen at night.
Enclosed in circular shape, the stadium covers a massive 225,000 square meters. Spectator access is possible vie three large ramps leading to elevated esplanade surrounding the building. From there 26 gates lead to the stands.

There are three tiers of regular seating on the sides and two behind goals. Between the lowermost and middle tiers there's an extra level of premium seating and reportedly the stadium is possible to expand. Worth noting, not all seats are covered from rainfall. Lowest rows along the sides are exposed even despite lengthening of the roof.
The stadium will be surrounded by over 80,000 square meters of public green spaces, also joined by secondary training stadium and numerous other amenities.
Main Sponsor