New stadiums: More candidates from China?
source: StadiumDB.com; author: michał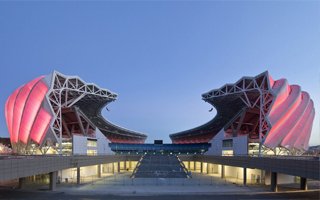 Quick update of Chinese stadiums opened in 2015 to check if you find them suitable for Stadium of the Year nominations. Surely these catch the eye!
Over the past few days you've sent us messages via email, twitter and facebook regarding Chinese stadiums that could be eligible for a nomination to Stadium of the Year 2015. Bad news: the giant in Hangzhou still hasn't been finished, which we have confirmed from its American architects.
So that stadium isn't eligible for a nomination, but after research we have three other potential nominees for your consideration. If you find any of them interesting enough to compete, just write a comment with the selected stadium's name under this photo on facebook or reply to this post on twitter. Yes, that's really all. But please mind - these stadia have difficult names! ;)

It's one of a kind in the sense that once viewed from satellite it resembles a sportsman joyfully crossing the finish line. Main indoor arena is the head (12,980 seats), hands are constituted by large natatorium (3,978) and tennis hall (3,152). The legs – of course the main stadium with outer shell divided into two halves. Torso with the ribbon are a very interesting combination of ramps and plazas with training, commercial and education facilities hidden underneath.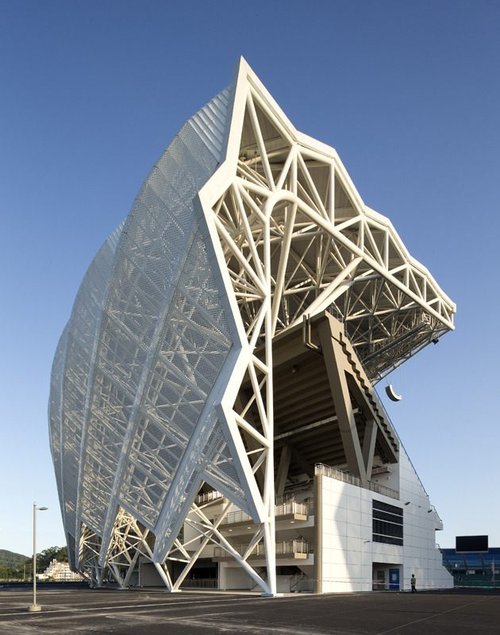 Such impressive sports complex, occupying massive 73 hectares, was created in Fuzhou, a city barely recognizable internationally. And not for an international event, too. It was built for the 1st National Youth Games of China, tournament for thousands of athletes aged 14-21. The whole scheme may seem even more impressive once taken into account that in 2011 this part of Nantai island was covered with farmlands.
The project worth roughly CNY 3 billion ($455 million) has a building blueprint of 390,000 square meters, of which of course the main stadium covers more than any other venue (61,577 square meters).
The central stadium can hold almost 60,000 people and still has some space for expansion left if ever needed. Both ends were left partially open not only to create the impression of 'legs' from space, but rather to make it a friendly and open facility. Just as the city's motto: "be tolerant to diversity, tolerance is a virtue".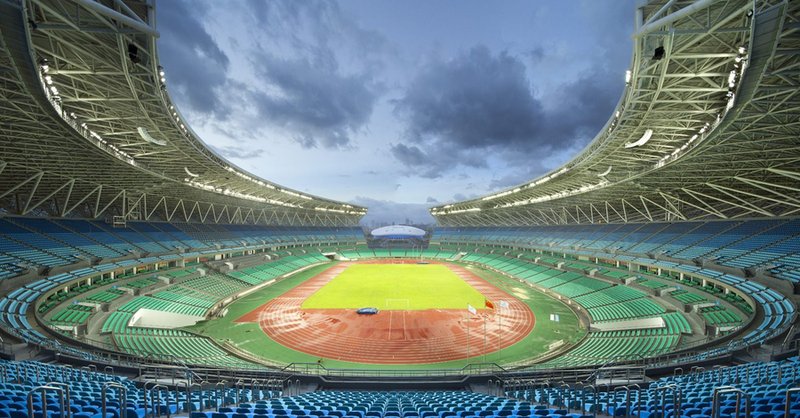 Despite rising to almost 53 meters, the stadium is visually very light, almost floating thanks to the rhythmic waves on its outer cladding. Facades add to the impression further by using mesh instead of opaque skin. This of course doesn't impede displaying dynamic images throughout the outer shell at night.
Underneath the steel roof structure are almost 120,000 square meters of floor space, enough to accommodate world class facilities for football and athletics. Construction of this giant stadium was launched in 2011 and due to end in 2014, but delays caused handover procedures to take place in the summer of 2015. Still, enough time to successfully hold the National Youth Games.

Looking at this impressive sports and leisure complex spanning across over 56 hectares it's hard to imagine that just 6 years before opening it was a fishery farmland. In 2009 reclamation of the site along east side of the Zhanjiang Harbor Channel began. By 2011 actual construction works were launched on what was then barely inhabited side of the channel.
The entire waterfront was set aside for sports while residential areas began booming around. Altogether over 66 hectares were left to accommodate a 40,000-capacity stadium, indoor arena (6,300 seats), natatorium (2,000) and gymnasium (1,000). Since the buildings were granted a landmark location visible to over 1 million inhabitants on the west bank, their form had to be eye-catching.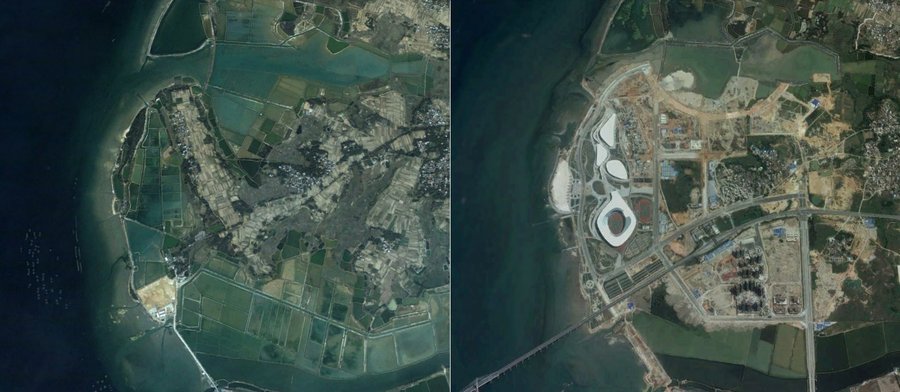 Design work was carried out by the famous Shanghai-based CCDI Group and used two symbolic references. First is the form resembling sea shells scattered on the beach. Impression is clear when viewed from afar and in aerial view.
Another reference, particularly within the stadium itself, is a ribbon. This one, dominant from pedestrian perspective, makes the stadium seem like a waving ribbon – whitish and elegant by day, while bright and dynamic by night. This dynamism seems almost natural with high winds that posed quite some challenges during construction of the stadium.
Its stands are, one might say, typically Chinese, seeing the focus on athletics and a classic bowl of double tiers (east and west sides) and one single tier on both ends. The venue comprises 4 floors of training, maintenance and office infrastructure and it's basically the steel outer shell that makes it stand out among other stadia.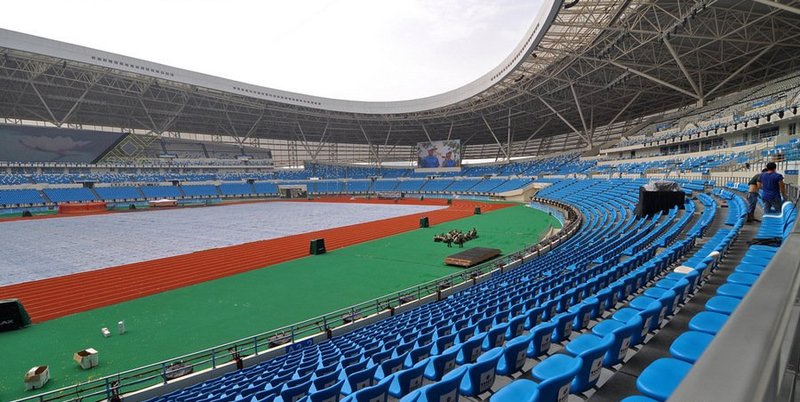 Rising to 54 meters at peak, this diamond-shaped cover is expanded to the north, making transition between main stadium and smaller venues of the complex seamless. All buildings consumed over 184,000 square meters of the complex, surrounded by plazas, green areas and even a new public beach.
Priced at CNY 2.25 billion ($340m), the entire scheme was built primarily to hold the 14th Provincial Games of Guangdong, but soon after the summer event in 2015 preparations began to host large exhibition event.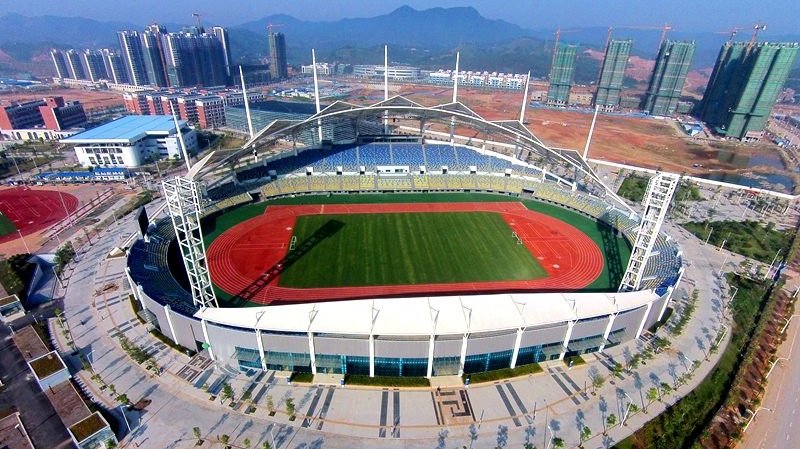 This stadium may be no match to major Chinese sports venues, but for Wuzhou it's the first ever professional stadium (built for a population of roughly 500,000). And it was built for the city's largest ever event, 13th District Games.
The tournament proved to fill less than half of available seats, but taking into account the speed of growth, Wuzhou should see them full on other occasions. The stadium itself is part of an impressive expansion that saw actual inhabitable surface of the city grow by almost 50%! Just 5 years before opening there was still a hill where the stadium now stands.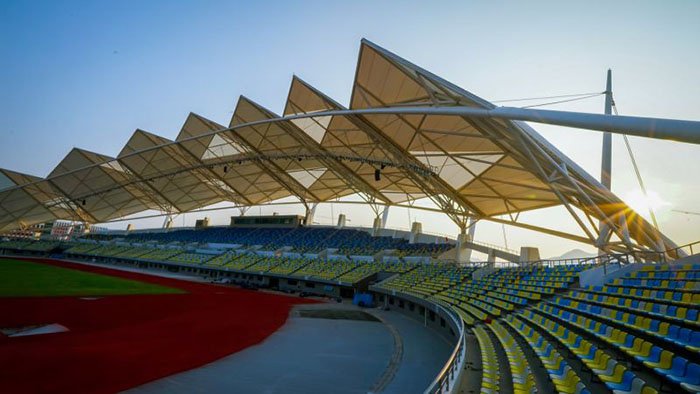 Structurally it's very simple, entirely delivered with cast-on-site concrete and has a blueprint of roughly 34,000 square meters. While minor maintenance/sanitary facilities are available throughout the stadium, vast majority of its infrastructure is located under the dominating west stand. Altogether there are 19,000 square meters of floor space. The building was erected for CNY 220 million ($33 million upon opening).
Aesthetically the key feature is its western roof. Resting on two arches and supported by 7 slender pylons, it was selected out of several concepts to symbolize a sail, honouring the Gui Jiang River that feeds the city.