Jakarta: GBK renovation to consume 500 billion
source: Waspada.co.id; author: michał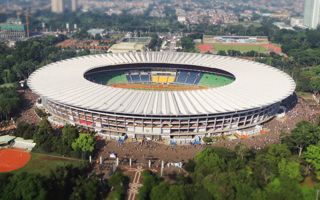 The budget sounds impressively, but not so much when you know exchange of the Indonesian rupiah. Anyhow, the budget and time frame for Gelora Bung Karno's renovation was announced.
Indonesia's national stadium renovation project is gaining shape as preparations for the 2018 Asian Games proceed. Gelora Bung Karno, main venue for the event, will undergo redevelopment worth 500 billion rupiah ($40m / €33m).
While few details regarding extent of works are available, one may expect them to be very limited. All seats will be replaced by individual plastic seating, improved spectator facilities are also planned. Whether the works will include new lighting and sound systems seems unclear.
The project won't be carried out by the sports ministry, as was previously planned, because major construction projects for the tournament are transferred to the ministry of public works and housing.
Procedural part should be carried out by March 2016 and works on site are to begin in August 2016. If there is no delay, 11 months later the stadium should be ready for international events.