Czech Rep: Hradec Kralove has to wait for new stadium
source: impuls.cz; author: michał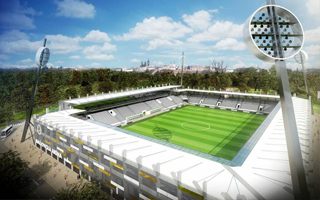 Project documentation tender had to be halted after one of the bidders filed official protest. Now building the 10,000-seat stadium in 2017 is getting unlikely.
In several weeks the final design documentation for new 10,000 capacity stadium in Hradec Kralove was to be ready. However official tender, launched back in June 2015, still hasn't ended. One company protested to the national antimonopoly body after having been rejected due to too cheap offer.
Jika-cz, the company in question, proposed to deliver all of the documents and guarantee planning permission for the project for just CZK 1.68 million ($68,000), while actual market value of such service was estimated to be nearly three times as high.
Deputy mayor Jindřich Vedlich claims the company had to be rejected due to a price that could not be feasible with properly delivered work. He also suggested Jirka-cz won a different tender with similar "dumping" policy and quality of their work proved highly insufficient.
Regardless of this justification Jika-cz had the right to appeal, especially that lowest price was the only criterion used in the tender.
While the city of Hradec-Kralove asked for the decision to be issued as soon as possible by the appealing body, building the stadium by the end of 2017, as was planned, now seems very unlikely.