Croatia: Impasse in Rijeka, Kantrida on hold
source: NoviList.hr; author: michał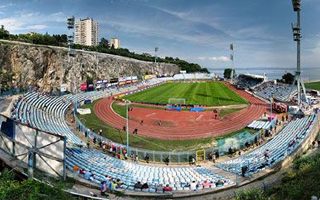 Great news if you haven't seen the legendary old stadium, because there's more time to visit Rijeka. But bad news if you're a HNK Rijeka fan and would like to see the new home built.
It might be good news for those who are yet to see the old Kantrida stadium. We have, years back, and it's definitely worth it. But that's hardly consoling for HNK Rijeka fans, who are currently watching games at the reserve stadium in Rujevica. Because all indications suggest there's more waiting for the new stadium ahead of all of us.
Over two years since planning for the new Kantrida began, the city unexpectedly changed its mind on what can be built on the site. In recent statement mayor Vojko Obersnel suggested that HNK Rijeka and their investment partners can get planning permission for the stadium almost instantly, but not for the commercial developments planned around it (shopping center and hotel).
This marks a U-turn in city's policy, because investors made it clear that the commercial part is crucial to the entire project's feasibility. Without it there may be no stadium. Why would the city change its mind just before the planning permission was to be granted, after years of analyses on and off the site?
Editor of "Novi List" Ivan Volarić suggests it's either regular incompetence on behalf of the city officials, or relations between the mayor and investors have become tense over a yet undisclosed issue. For now we know that construction of the new 14,000-seat stadium is put on hold.