Stadium & design: Pearl of Dalmatia today and in the future?
source: StadiumDB.com; author: michał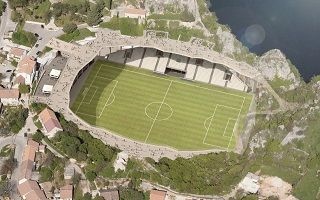 Already in its existing form it's one of the most stunning stadiums worldwide. No wonder that the vision of its revamp received headlines throughout Croatia today!
Imotski is a picturesque town in inland part of Dalmatia, close to the Bosnian border. Due to its extreme location and bedrock for decades there was no football field. There simply was no room to fit one in until such idea emerged in early 1970s.
The new field was to be created in the place of a natural valley. Achieving over 7,000 squre meters of level land meant the necessity of filling the valley with rocks and soil. Ground works began in 1978 and lasted two years before the field was delivered. Today's natural turf grows 43 meters above the valley's historic bottom!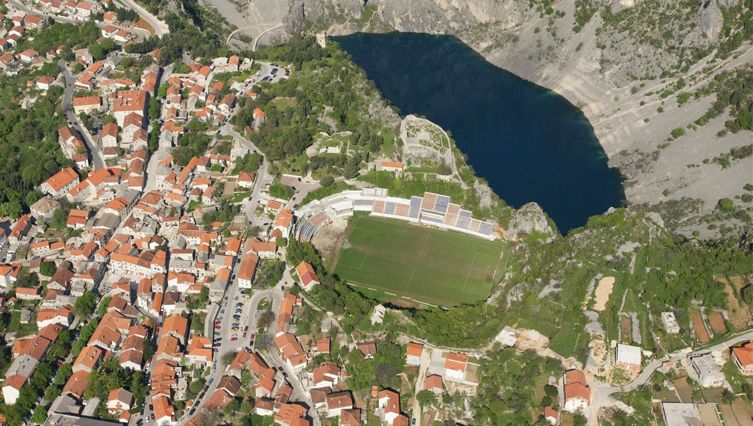 © Braco Ćosić, terracon-news.com
According to the original design, grandstands were to be built on both west and east sides, however the eastern one was never delivered. Even the current shape took years to fully open. Still, the west side makes the stadium unique enough. Resting on the rocky hillside it's topped by the town's key attraction, the Topana fortress from 10th century.
© Braco Ćosić, terracon-news.com
There's a modest church of Our Lady of Angels (Gospe od Anđela) within the fortifications, from which the stadium took its name. Right behind the stadium and fortress is a massive sinkhole which hosts the Blue Lake (Modre Jezero). When the lake dries in late summer, football is played on the bottom soil. With or without water this stadium has a unique landscape in the world of football.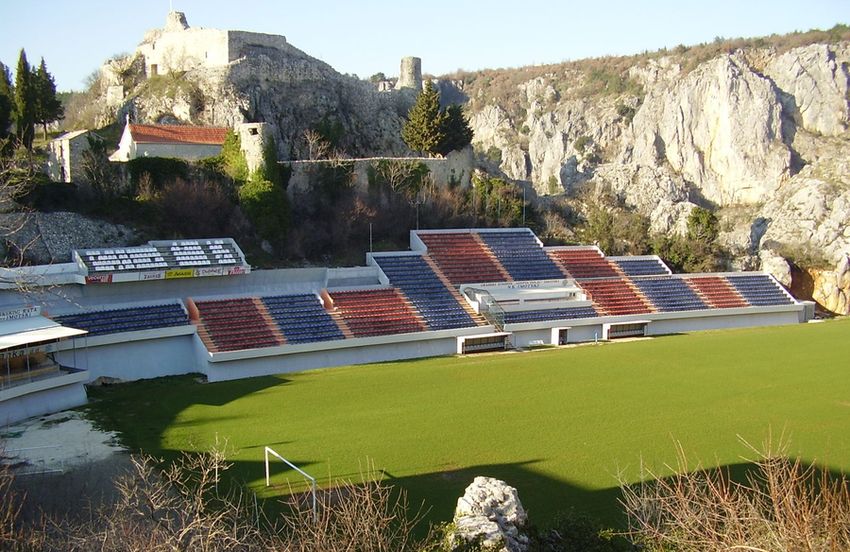 © Zvijerka
The irregularly shaped western stand and small southern terrace used to hold 4,000 people when benched. After conversion to individual seats the stadium has capacity of app. 2,600.
This would be some future!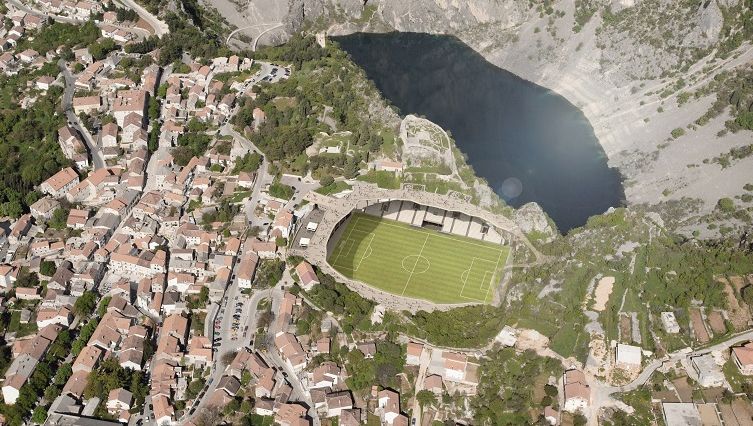 © Ivo Žarko
Although it immediately gained media attention in Croatia, it's "only" a thesis work at Faculty of Architecture, University of Zagreb. Still, this vision by young architect Ivo Žarko deserves recognition for how it utilizes the unique setting of Stadion Gospin Dolac.
The idea focuses on adding a roof that would be much more than just regular cover. It's seen as a meeting place, open plaza leading to the stands before games or connecting the town better on non-matchdays.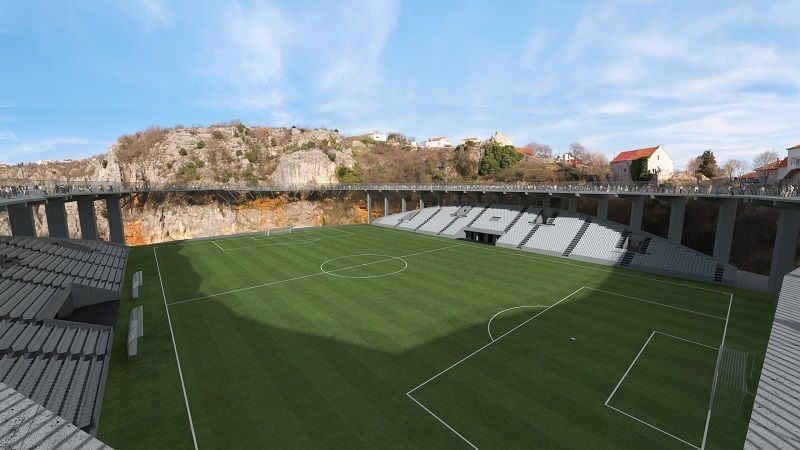 © Ivo Žarko
But perhaps most notably: a unique viewing deck. From its southern edge one might see the valley spreading below, from the north-western part a glimpse of the Blue Lake's sinkhole and throughout the deck of course – great view of the field below.
New grandstands would be more conventionally-shaped than the current ones, offering up to 5,000 covered seats. Instead of very modest infrastructure behind the southern goal there would be enough room to create a large pavilion with numerous functions possible.