St. Louis: Formal stadium bid filed to the NFL
source: ESPN.go.com; author: michał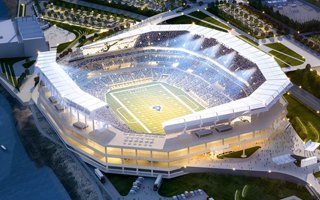 One day before the NFL's deadline to accept stadium proposals from the three home markets vying to keep their teams, St. Louis submitted the most comprehensive and actionable plan of the three.
Missouri Gov. Jay Nixon's stadium task force submitted a formal proposal for the estimated $1.1 billion venue on the city's north riverfront Tuesday morning.
Task force leaders Dave Peacock and Bob Blitz have been working on the project for more than a year and, after many tweaks, finalized and forwarded the roughly 400-page proposal.
"St. Louis has formally presented a $1.1 billion project that delivers more than $400 million in public financing and support, as well as a plan for an ultra-modern stadium on our downtown riverfront that the NFL and the St. Louis Rams will be extremely proud to call their own," Peacock said.
"Our proposal is the result of extraordinary teamwork by multiple government agencies, business leaders and industry experts, and is the culmination of intense work over the past 13 months to deliver on the certainty that has understandably been requested by the NFL."
San Diego and Oakland have until Wednesday to offer proposals, and though it's believed all three will submit something, only St. Louis has a plan that includes actionable public money at this point. All three teams can begin filing for relocation Monday.