Perth: First steel roof truss installed
source: WA.gov.au; author: michał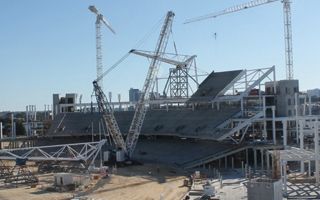 First of as many as 50 roof trusses already tops the future Perth Stadium. This milestone completes year one of the project, two more to go.
The Perth Stadium structure has reached its full height of 42 metres with the first of 50 steel roof trusses installed on the Burswood Peninsula site.
Premier Colin Barnett and Sport and Recreation Minister Mia Davies were onsite today to view the latest construction milestone. "Just 12 months ago we were onsite to see the first concrete pile driven into the ground," the Premier said.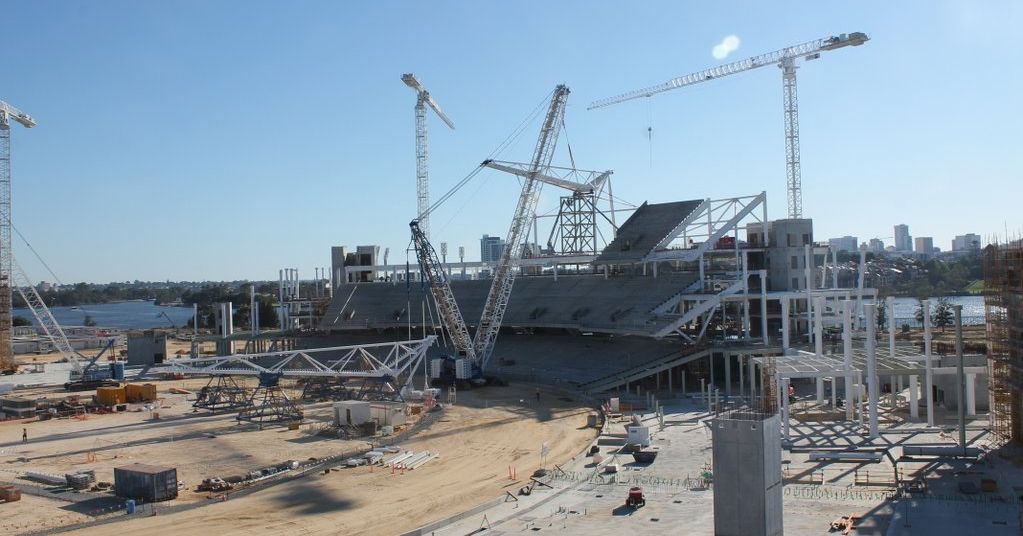 The 50 roof trusses will be delivered to the Burswood site and installed over the next 12 months. The 45m-long steel trusses will support the lightweight roof fabric covering 85% of the 60,000 seats.
"More than 14,000 tons of steel are being used to construct the stadium's steel frame. This includes 50 steel roof trusses manufactured at the factory of Henderson-based contractor, Civmec Construction and Engineering, with a workforce of more than 120," she said.
Alongside installation of more than 2,700 tons of steel for the stadium structure, more than 600 of the terraced concrete platforms that will support the seats are now in place.
2016 will be the busiest period of construction and the Burswood site is set to become a hive of activity, peaking mid-year with a workforce of about 1,000 workers.