Moscow: Check out the reinvented Luzhniki
source: StadiumDB.com; author: michał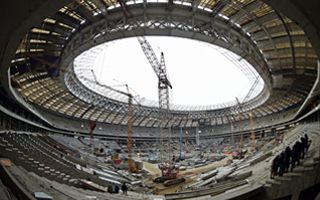 Nearly all of the main structure is ready and you can clearly see the changed seating bowl. Now with two tiers and no room for a running track, the stands will soon hold 81,000 seats.
Russia's greatest stadium is currently growing from its former 78,000 to 81,000. Overall this increase may not seem impressive, but if you followed this project you already know that the challenge was huge. All of the old stands were demolished under existing roof and within the outer walls.
Now instead of the flat single tier the stands already have two tiers in a rectangular layout. Though a lot of work is still to be done, the future shape is clearly visible. Just see the comparison between September 2013 and December 2015.
Current progress status is 90% for the monolithic structure. This means very little concrete pouring left on site, while installation of prefabricated elements is also advanced. 6,000 steps for the upper tier are in place, while a similar number will arrive in the lower one by early 2016.
Soon work will move largely underneath the stands, where already now masonry work is being done to provide facilities planned throughout the new 7 floors.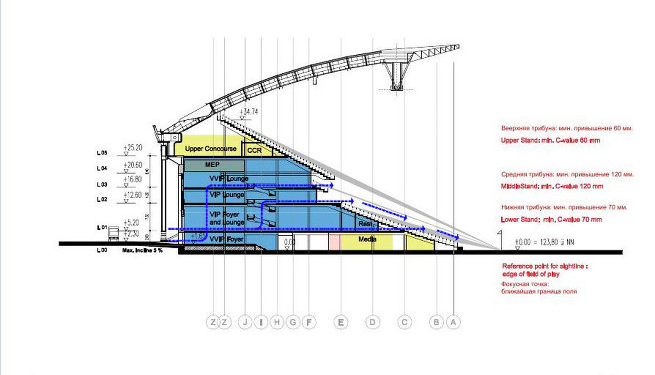 All of the roof structure is delivered already, though still awaiting new electronic systems and polycarbonate cover for the new inner ring.
Renovation of the monument-listed outer walls has still a long way to go, as it's roughly at 30% nowadays. However, this part of the project isn't as labor-intensive as major tasks that were already delivered.
At this point there are no indications that the stadium would not be ready in 2016, as planned. Just as a reminder: the stadium is well ahead of the initial schedule and should have no trouble hosting games of the 2017 Confederations Cup before being the host for crucial 2018 World Cup games.