Cologne: Piece of turf worth €122.92, apparently
source: StadiumDB.com; author: michał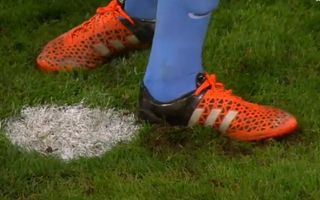 How much should a player pay for potentially changing the score with unfair actions? Unexpectedly stadium operator in Cologne came up with the sum of €122.92.
If you follow the Bundesliga, or any major football media for that matter, you surely know this case. During Saturday's game in Cologne, FC Augsburg goalkeeper Marwin Hitz damaged the penalty spot just before defending penalty kick. Striker slipped and this saved FC Augsburg the precious 3 points on an away day. Except that Hitz's unfair action was caught on camera.
And we most likely wouldn't cover the issue at all if it wasn't for what happened after the game. President of the stadium operating company Kölner Sportstätten issued a bill for damage done to the field. It was set at €122.92 ($135) and, when paid, the amount would be transferred to local children's hospital.
Obviously more of a PR action than actual damage account, the bill resulted with both Hitz and FC Augsburg mocking the groundsmen from Cologne. The goalkeeper at fault suggested via Twitter that it shouldn't take that much effort to fix a piece of grass, while FCA actually announced sending their own lawnmower to "tackle the problem". Not without advertising their sponsor…
At the end of the day it's the children's hospital who will gain most though, because both Hitz and FC Augsburg as a club announced they will also donate money to the hospital along with the €122.92.