Russia 2018: Dangerous accident during construction in Volgograd
source: Volgasib.ru; author: michał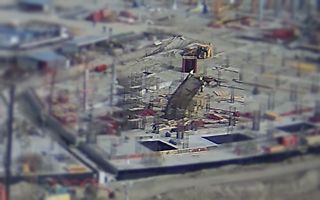 Large piece of iron reinforcement collapsed with four workers on top. Two of them are in very serious condition. Work was temporarily halted in the area.
Construction of Pobeda Arena is going well overall, but on Saturday a very serious accident took place, involving four workers. Around noon a tall reinforcement structure collapsed, causing their fall onto the concrete foundation.
The below camera clip shows the entire accident. The footage is drastic despite the distance and seems to suggest the structure collapsing directly after the fourth man climbed on top of it. You can see it below, accident site is on the write.
The video shows how one of the workers may have saved himself from severe injuries by clinging on to the reinforcement and not hitting the ground.
Two of his colleagues weren't as fortunate. According to SotsInformBuro the 26 and 30yo were taken into intensive care. One with concussion and fractured spine, another with broken legs, arms and multiple bruises.
Official causes of the incident are yet to be established by investigation that is already underway. There is no data suggesting that works would be halted for a significant period even at that very section where the accident happened.