Regina: Mosaic Stadium reaches 60%
source: GlobalNews.ca; author: michał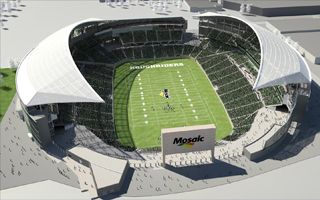 City officials and PCL Construction provided an update to the media on Monday focusing on the roof, lighting and seating for the new stadium. A GlobalNews.ca report.
"These key features show just how different our new stadium will be compared to the current facility," said Mayor Michael Fougere. "It's exciting to see the progress that has been made by PCL and the City team since ground was broken over 500 days ago."
"A spectator roof and improved lighting and seating are essential features of our new stadium," said Brent Sjoberg, Deputy City Manager & COO, executive lead for the Regina Revitalization Initiative.
A company out of Dallas, Texas will begin installation of 130,800 square feet of polytetrafluoroethylene (PTFE) fabric roofing in the spring of 2016. The material is translucent which will allow maximum daylight and also provide shading.
Around 400 LED lights will illuminate the stadium and make it CFL's first one to be fully lit with LED lighting.