New stadiums: Under the dome
source: StadiumDB.com; author: michał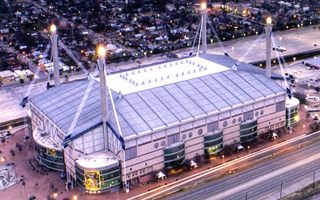 Some stunning technological solutions, some not so stunning ones. Domed stadiums in the US have longer history than in any other countries. Here are four captivating examples.
Alamodome, San Antonio, Texas (65,000)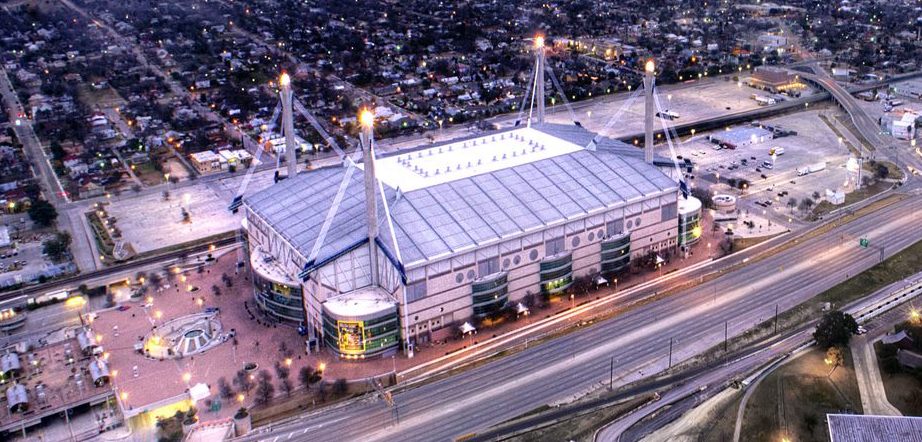 Built in 1993 just outside downtown San Antonio, this unique stadium was built to draw more event traffic to the city. Though its size suggests football use, retractable lower stands make the stadium suitable for hockey or even basketball layout.
The immense dome support by pylons in each corner may be considered a success in terms of variety of events held here. From political, religious, entertainment events through exhibitions and congress to numerous sports events – almost everything can be organized here. Thanks to the mobile stands even the wider Canadian football field was placed here for one entire season, just like baseball and regular football pitches on many more occasions.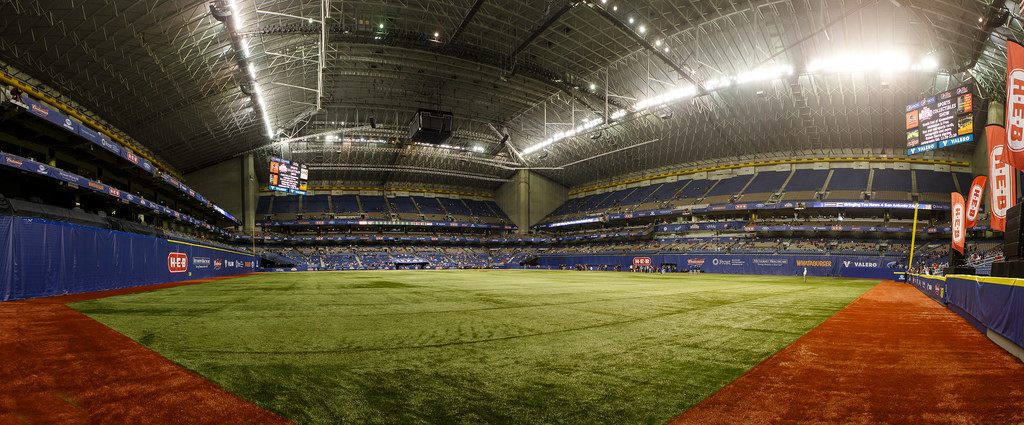 One way in which Alamodome might not be considered ideal is the failure to attract and retain long term tenancy from NFL, NHL and NBA. The latter league's San Antonio Spurs had spent 9 seasons here, but due to the stadium's immense scale decided to relocate in 2002. Currently the most frequent use is of Alamodome is made by football team Roadrunners (University of Texas San Antonio).
In the 21st century the stadium went through several renovations, mostly associated with technological advances. In terms of its overall shape it's still just as it was opened in 1993, maybe aside of the expanded corporate hospitality zone. Still, estimates suggest further $150 might be needed to upgrade the stadium enough to reach NFL level. Which is nearly as much as the stadium cost in 1993.
Carrier Dome, Syracuse, New York (49,262)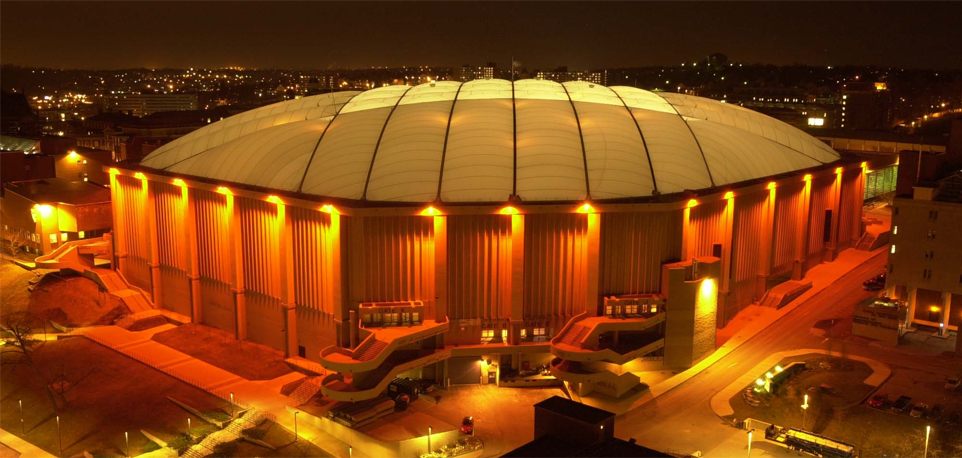 Construction of a new stadium on the edge of Syracuse Univeristy's campus was forced by poor condition of its predecessor, Archbold Stadium. In order to retain its status in the NCAA, the university had to build a new one. Taking the mild (if not chilly) weather into account, the SU opted for an inflated dome covered with fiberglass, popular solution in 1970s.
Financing for the development was secured from state authorities as NY governor contributed $15 million to the project. Further $2.75 million was donated by HVAC manufacturer Carrier (to this day honoured in the name) and remainder supplied by the university.

Entire budget stood at under $26 million. Compared to its capacity of nearly 50,000 people, this price tag seems a rather modest one. That said, the modest concrete facades are very raw and hardly matching the campus architecture altogether.
Since opening in 1980 it's been one of the most versatile venues for university athletics. It serves football, basketball and lacrosse teams of the university on a regular basis. And with its size it allowed SU to establish several attendance records for on-campus basketball or hockey.
to this day the stadium's outer form hasn't changed, though all of the roof was replaced in 1999, during its largest ever renovation.
Tropicana Field, Saint Petersburg, Florida (42,735)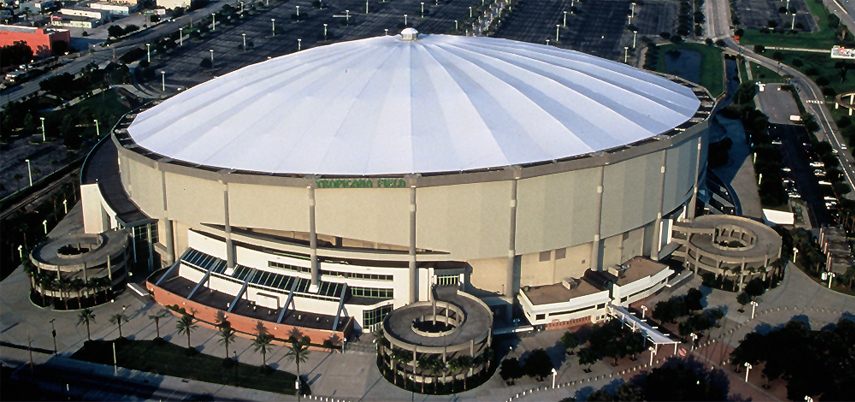 The idea of building a new baseball stadium arose in 1983, when the city wanted to draw a major professional franchise (while NFL and soccer teams were already operating in nearby Tampa).
Construction was launched in 1986, when the city had no clarity as to whether any team would actually come. This proved very problematic over time, because the first home game for key tenants Tampa Bay Rays came as late as 1998, 8 years after opening. Even more controversially, some $70 million had to be invested into remodeling of then-8yo stadium that had cost $130 million in 1990.
Major League Baseball's latest franchise settled in the league's last remaining dome and also one of the smallest stadiums throughout MLB. Use of a domed roof was considered adequate though, because humid and hot weather with frequent storms would have influenced the game greatly in open air.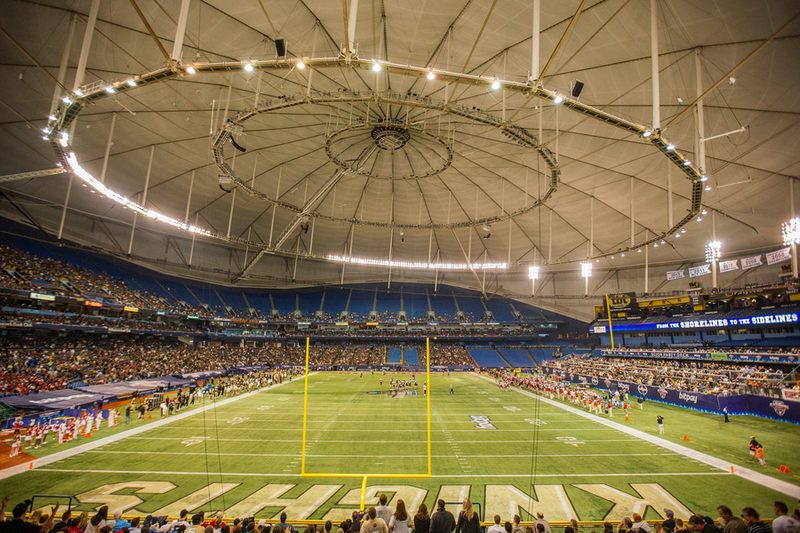 The circular dome is unique as it's slanted towards the east. This way overall volume of the arena was reduced, thus reducing the heating/cooling cost. However the structure became controversial due to catwalks and cables hanging under the dome. During some games the ball may hit structural elements, which change its trajectory and may influence the score.
As if this wasn't enough, lowest catwalk (supporting floodlights) obstructs the view from highest rows. This led to capacity reduction for MLB games to 31,042 instead of original 42,000+. All of the seating is used during football games, though first regular fixture at Tropicana Field, the St. Petersburg Bowl, arrived as late as 2008. Along regular seats 70 suites and 2,776 business seats are available.
A feature we couldn't miss is the 11,000-gallon tank with live rays built inside the ground in 2006. During games fans may feed and touch these creatures, while any ball landing in water results in Tampa Bay Rays donating a significant amount to charities.
UNI-Dome, Cedar Falls, Iowa (16,324)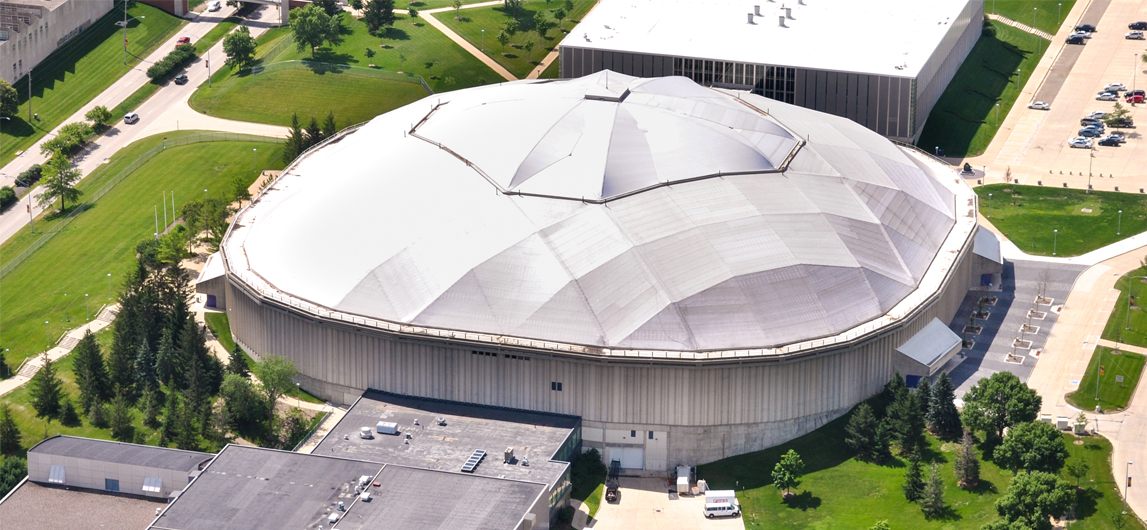 Built with a now-rare octorad footprint (rounded square), the stadium was opened in 1976. It utlised a popular dome technology of the time, the inflated-membrane cover.
This solution, though economically favorable upon construction, proved problematic in the long run, especially in a place suffering from heavy snowfalls. After another one in 1994 caused the roof to collapse, the structure was completely removed.
Instead, a new combination of steel trusses was placed on top of the existing stands. It assured more strength, though far less sunlight access with only the central part translucent. The dome's diamond-like shape is now UNI-Dome's most distinctive feature.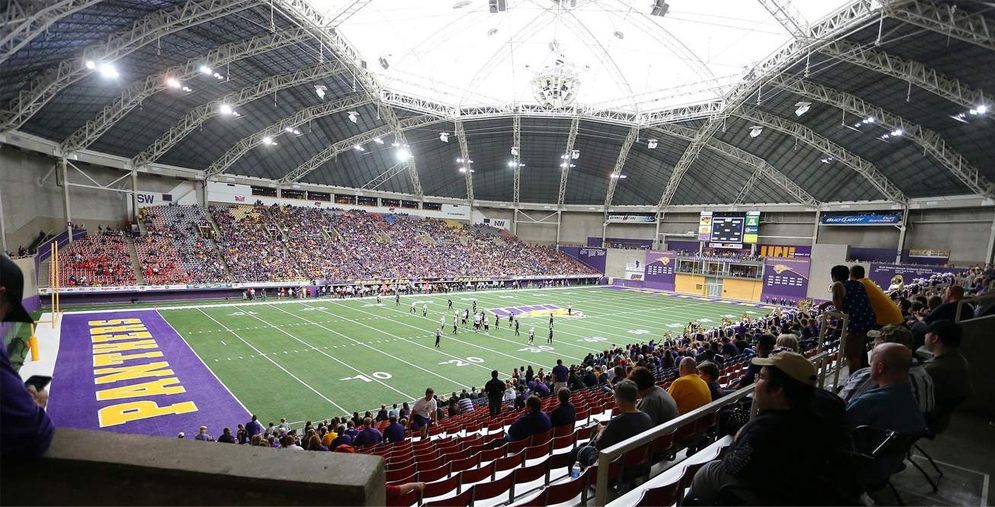 The stadium's name is owed to University of North Iowa, on whose campus the venue was built. The school's football, basketball, volleyball and wrestling sections all used the arena since 1976, but most of them relocated after 30 years to newly-built McLeod Center, just south and connected with UNI-Dome by a skywalk.
In its default layout for football, the stadium can hold 16,324 people, only along the sides. However the record football crowd is in excess of 17,000, while during key basketball games the crowd used to stand at 22,000 people.