Mexico: Santos Laguna to expand their stadium
source: MedioTiempo.com; author: michał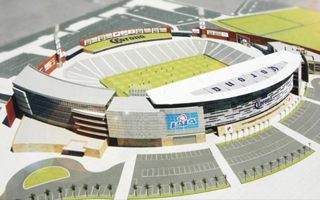 Second stage of Estadio Corona is to begin soon. Santos Laguna hope to add a luxury hotel and retail center to increase their complex's potential.
As the complex of Territorio Santos Modelo is celebrating its 6th birthday, Santos Laguna club president Alejandro Irarragorri announced that second stage of the project will begin in 2016. One of Mexico's best, though hardly the biggest sports stadiums will grow in floor space, but not capacity.
Next year will see the addition of a luxury hotel, leisure and retail space on top of the north stand. Works won't end in 2016, but the groundbreaking is very close to fruition.
Irarragorri claims the market hasn't necessarily been perfect for such expansion, but the dream is just weeks away from coming true. Currently the club is working with numerous private partners to set up the complex's commercial side and make it feasible to build. In the long term, adding a hotel and retail/leisure center to the well commuted stadium should significantly improve its potential to generate revenue.