London: No standing room at Wimbledon
source: AFCWimbledon.co.uk; author: michał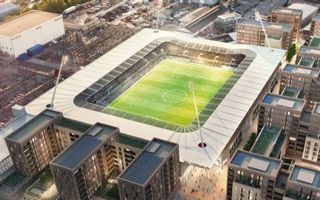 Bad news for traditional fanbase of AFC Wimbledon. If the club is to receive funding for its stadium, there can be no terracing included in the application.
In Saturday's match day programme, Erik Samuelson reported on some rather disappointing news about plans to include a standing terrace in the new stadium.
Since AFc Wimbledon entered the Football League in 2011 they have received grants of £550,000 for work on the control room and the new John Green Stand. There is a limit of £750,000 on the total amount of grants available to League clubs, so there is a further £200,000 to apply for. But, importantly, grants are not available for standing terraces.
"In short, if we include a standing terrace in the new stadium then we must repay the £770,000 and we'd forego £200,000 of potential new grants. So the net effect is to add nearly £1 million to the cost of the new stadium", said Samuelson, quoted by AFC Wimbledon's website. Further quotes below:
"I'm not surprised by this response. The Football Foundation is simply implementing policies which are not of its making and which reflect the status of terrace accommodation following the Taylor Report some years ago. So there is no other answer the Football Foundation might have given us, and until the government changes the law about seating in football stadiums I see no chance of progress in the timescales for a new stadium.
"So we have a simple decision to make. Do we build a standing terrace at an incremental cost of just under £1 million? While I'd love to be able to say we've got £1 million available to do this, right now the key focus is on keeping the overall cost affordable. What we can do is look at designing a seated area that is capable of being converted into a terrace if and when the rules change, but in reality I think we have little choice in this matter: our new stadium will be all-seated. To pre-empt an obvious question, while the status of rail seating (often referred to as safe standing) is a little unclear, it does not currently qualify as seated accommodation, so that is no help to us at present."