USA: DC United closer to new stadium
source: bizjournals.com / WashingtonPost.com; author: michał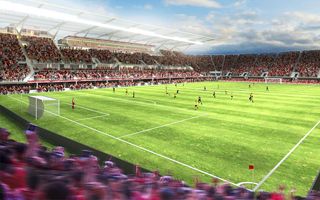 Washington DC met the deadline and acquired all of the land at Buzzard Point, where future stadium of DC United will stand. The club used the occasion to release a fresh rendering.
Washington DC had time until October 1 to secure ownership of the land designated for new MLS stadium. If the District couldn't do it, DC United would be able to find a new location.
While no agreement was reached with last property owner, Akridge, both sides agreed for the case to be resolved in court. Washington DC used the eminent domain law, which grants ownership of the site immediately to the authority, while the court will decide how much it's worth and the sum will later be paid to Akridge.
This may significantly increase the city's contribution (by some $15 million, according to Washington Post). IF you haven't followed the project earlier, Washington DC provides the plot on which DC United are to build their new 22,000-capacity stadium.
The MLS side used the opportunity of complete land acquisition to release the latest interior rendering of its planned stadium. Just like two previous ones (all available in our gallery of the design), it was welcomed by mixed reactions.