Texas: Hall of fame at Dallas FC
source: FCDallasHOF.com / CommunityImpact.com / DallasNews.com; author: michał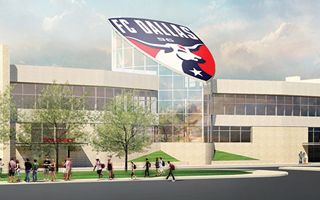 Celebrating local football while also adding new premium facilities to Toyota Stadium: that's the scheme launched by Dallas FC.
A simple, but elegant façade that encloses the south end of Toyota Stadium is what passers-by will first see when this latest renovation plan is introduced. Construction on the stadium additions and improvements will begin in early 2016. The hall of fame is expected to have a soft opening by December 2017.
The $39-million project will be located at the south end of the stadium and will feature more than 100,000 square feet (9,300 sq meters) of renovated space, including new locker rooms, additional covered premium seats, a private club and the hall of fame.
The entire southern enclosure will be available for use as semi-covered amphitheater for non-football events. With stage places at field end, it would be able to hold 4,000-5,000 people with facilities entirely independent from the rest of the stadium.
The 24,000-square-foot National Soccer Hall of Fame will be set on the top level of the three-level stadium addition. It will house an array of U.S. Soccer memorabilia and trophies, including the Women's World Cup, Gold Cup and Lamar Hunt U.S. Open Cup trophies. It will also be the permanent site for the annual National Soccer Hall of Fame induction ceremony.