StadiumDB comment: She's Hadid, just stop
source: StadiumDB.com; author: michał
When you publicly accuse someone of being partly culpable for the deaths of 1,200 people, how can you limit your apology to "we're happy to accept there is no evidence of deaths" a few hours later?!
Zaha Hadid just won the RIBA gold medal which proved to be just another occasion to accuse her of working on a project that led to hundreds of deaths. Which is, according to BBC Radio 4 host Sarah Montague, the Al Wakrah Stadium site. The two talked today about the RIBA award. Or they would have if Hadid hadn't had enough after a couple minutes.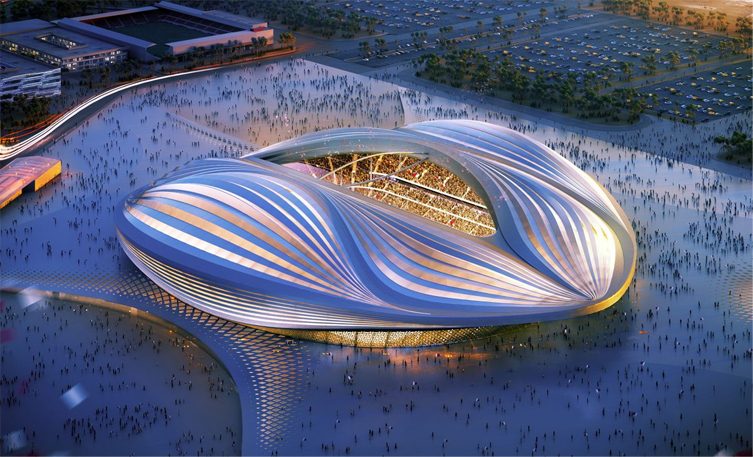 Here's the interview
Sarah Montague: One of your buildings is the Qatar stadium where there have been considerable problems, not least, I mean, the number of deaths…
Zaha Hadid: There haven't been any problems actually, I have to put you right. There has not been a single problem with the stadium in Qatar.
SM: More than 1200 migrant workers have died there.
ZH: Absolutely not true. We sued somebody for writing that and saying that and it had to be withdrawn from the press because it's absolutely inaccurate.
SM: It is very widely reported that there are huge numbers…
ZH: It's absolutely untrue!
SM: What is your understanding of the number of deaths from…
ZH: There's no death on our site whatsoever […] You should check your information before you say anything.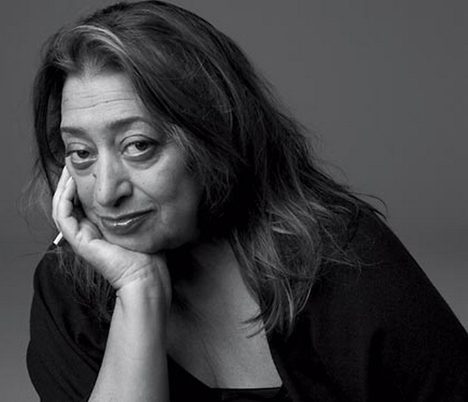 The conversation went on and moved to Tokyo, where the national stadium design had to be scrapped due to soaring costs and delays, among other factors. Zaha Hadid attempted to give a broad explanation of this complex issue, as her office gave in a special film, but was not allowed to. At which point she just ended the interview.
Stop the Qatar killing lie
Sarah Montague claimed in the interview that her "1,200 deaths" figure was based on the International Trades Union Confederation report targeting Qatar. The report has been used ever since its initial release in 2014 to deliver sensational and massively untrue news releases about how many migrant workers have been killed on the construction sites in Qatar. Just look at these headlines:
The ITUC estimated that up to 4,000 migrants may lose their life before 2022. While the figure is shocking and should be alarming, the Confederation itself made it clear it's an estimate presented to highlight the issue of worker welfare in Qatar and to actually address the problem before more deaths occur.
The report at no point suggests that any single worker has died on the construction site of any Qatari stadium, despite this often being the headline in mainstream media. And ITUC is right, because in 2013 (when statistics were collected) none of the stadiums was actually under construction to produce any deaths!
As if this wasn't enough, the report never gave a 1,200 figure for construction site deaths in Qatar overall. It only pointed out that roughly 1,400 Indian and Nepalese workers died in Qatar between 2010 and 2013 overall. This includes traffic accidents, natural causes, diseases and so on.
That is not to say that Qatar has no issues with worker rights. The country deserves its fair share of scrutiny over terrible working conditions (only adding to already extreme climate), but at the same time these conditions can hardly be called worse than those in India and Nepal, where the workers come from. Is it OK to treat them bad then? Of course not, if Qatar wants to join the developed world, this needs to change. But manipulating facts is hardly of any help.
Non-apology
So, later today BBC Radio 4 officially "apologised" to Zaha Hadid, which is hardly less outrageous than the initial interview. "The ITUC's figure of 1,200 construction deaths which was quoted on this morning's programme refers to the whole of Qatar, and not specifically to the main World Cup stadium site. We are sorry we didn't make this clear in this morning's interview with Dame Zaha Hadid. We are happy to accept there is no evidence of deaths at the main stadium site."
Happy to accept there's no evidence? It's the sole point of your bloody job to make sure you get the facts right before you accuse someone of working for genocidal investors. The least BBC Radio 4 should have done is apologise to the architect for suggesting that she has any involvement whatsoever in people being killed on an industrial scale. Which of course they didn't.
Why Hadid of all people?
We're not the biggest fans of her works, but it's unquestionable Zaha Hadid is among the most recognized architects worldwide. She's frequently awarded, she is in fact the first woman to receive the RIBA gold medal.
But at the same time she seems the only architect who journalists have such ease attacking for things she has none or extremely limited influence on. It was not long after her being awarded the Al Wakrah Stadium contract that she was found by some as working for "slave country" and not becoming an activist to change Qatar.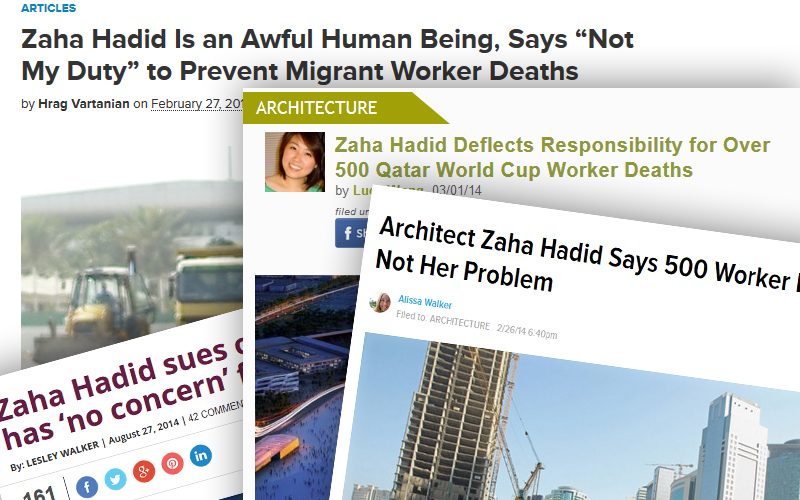 Wait just a moment: can anyone name any leading sports architect who isn't involved in any project in Qatar or hasn't participated in a competition to become involved? So why should she be the one singled out and then attacked after she said it's not her duty as an architect to cater for on-site workers. It's not, she's absolutely right. Her office delivers buildings around the world, should she then tackle all world's problems? It makes literally no sense, because there's no point in targeting architects for doing their job.
Qatar should and thankfully is targeted. The country is monitored, workers' situation is gradually improving and let's all keep our fingers crossed there will be no reason to blame anyone for further deaths...
Michał Karaś
The above article express personal opinion of its author and is not a news release. To reply or comment please reach the author at michal@stadiumdb.com or through our social media profiles (Facebook / Twitter).