Sevilla: Betis reclaim their stadium
source: realbe; author: michał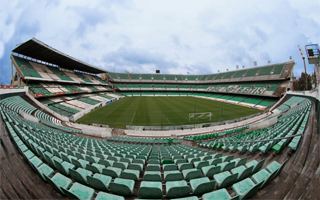 Yesterday Real Betis confirmed the successful campaign to pay off creditors. After over four years the club again own their beloved home and may invest in its modernisation.
Real Betis yesterday released a statement to confirm reclaiming their Estadio Benito Villamarin. Since late 2010 parts of the stadium were taken by creditors, primarily the Spanish tax administration (AEAT). The agency claimed corporate facilities and parking, with worth totaling at some €16.4 million.
In total Betis had to pay off 13 creditors and now this task is complete. All arrears are either cleared or have a plan agreed upon by the club and creditors. Most importantly, Betis again own their entire stadium, one of the most iconic in Spain. Long-term plan envisages further revamps to increase its potential, which would be impossible without full ownership.
Betis lost parts of the stadium (as well as some rights to players) after it became insolvent in 2010. The situation was largely caused by former majority shareholder Manuel Ruiz de Lopera convicted of fraud against the Spanish Treasury. Lopera's name was then included in the stadium's name, but following the scandal it was reverted back to Estadio Benito Villamarin.