New stadiums: Transylvania and Gheorghe Hagi's dream
source: StadiumDB.com; author: michał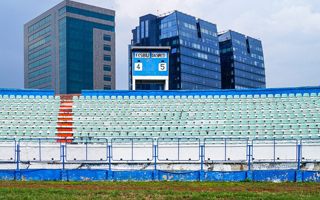 It's a beautiful country of not that beautiful stadiums. Clubs are being disbanded and reborn constantly (exaggeration, true), which is why the biggest stadium added now is empty and the smallest is a busy training academy.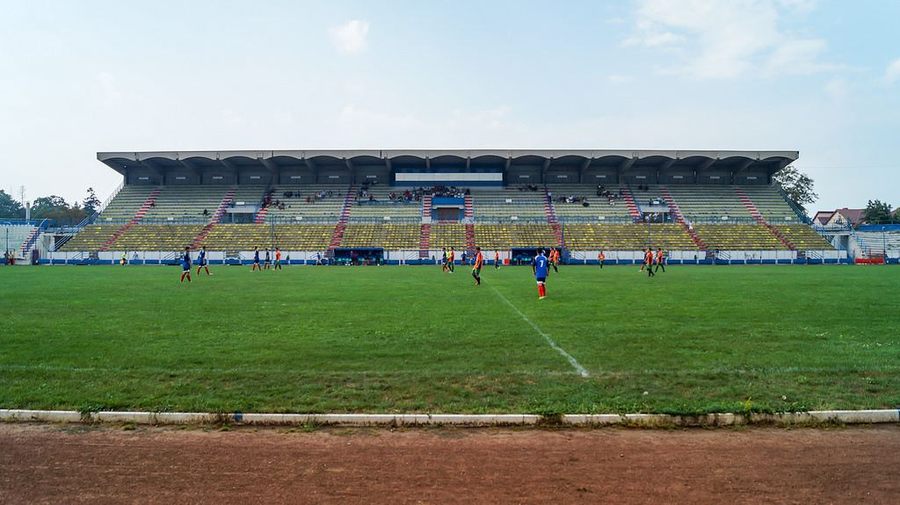 Photo: Football Romania (cc: by-nc-sa)
The municipal stadium in Transilvanian city of Sibiu dates back to 1927. It was built south of the centre with a wooden grandstand (north-west) and smaller sections on remaining sides.
New landfill stands with 12 rows joined the wooden grandstand in 1977-1981, providing additional 12,000 capacity. Then in 1982 the stadium's shape as we know it was finished with a much greater new grandstand, this time concrete, covered and with training infrastructure underneath. Altogether the building could then hold some 24,000 people.
Last major renovation came in 2011, when local team Voința was promoted to Romania's top division. This is when conversion to all-seater was finished with 9,000 new seats. Unfortunately the club was disbanded just a year later and the stadium remains without a professional tenant.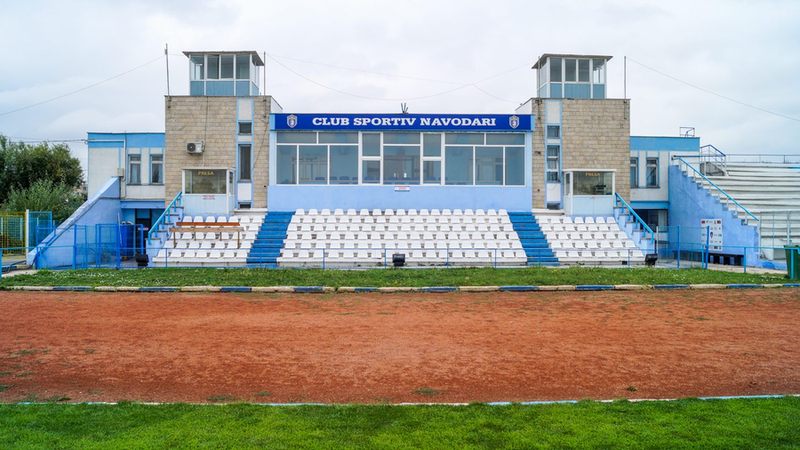 Photo: Football Romania (cc: by-nc-sa)
Called traditionally the Petromidia stadium after nearby refinery, this stadium was opened in 1960 for local industrial football club. It stands literally between the town of Navodari's last residential buildings and the refinery.
There are two stands, though land embankment surrounds the field entirely. The main grandstand is small, but has a very distinctive administrative building. Most fans are seated on the opposite (east) side though, including the away contingent.
In 1990s it was converted into an all-seater with national colours of Romania represented in the seats. However after local team was dissolved, a new one, Săgeata, moved here in 2010. They've repainted the stadium in white-blue to match their crest.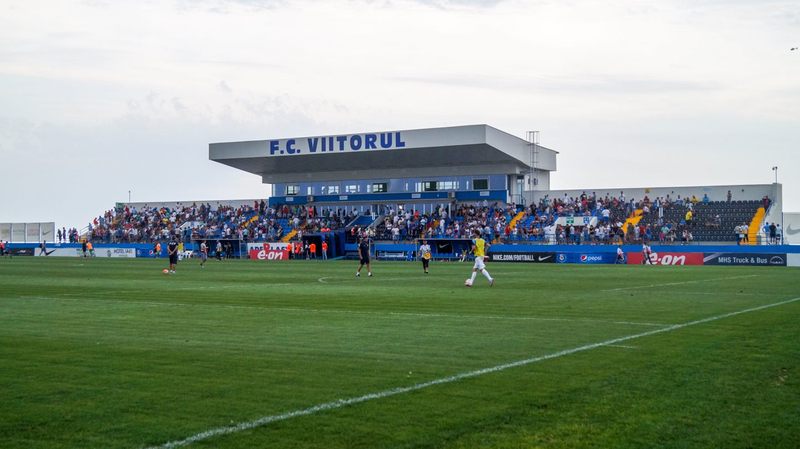 Photo: Football Romania (cc: by-nc-sa)
This stadium was created in a farmland near Ovidiu as part of a major football project launched by Gheorghe Hagi, Romanian football legend. Former player and coach began establishing Romania's best training academy in 2009.
By 2011 four full-sized fields and three smaller ones were already set for use, though construction of stands and offices at the central one lasted until late 2013. The building had to be modernizes almost instantly, because Hagi's new club Viitorul won promotion to the top division in 2015. Partial roof was added to the main grandstand while other sides were expanded.
The project was financed privately and is expected to run self-sufficiently thanks to the sale of players trained here. Until 2015 it reportedly consumed some €12 million.