New stadiums: 82,000 capacity each!
source: StadiumDB.com; author: michał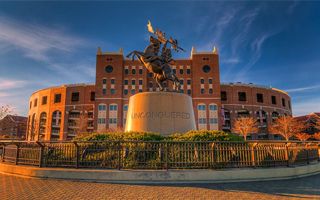 We just cannot get enough of the American football stadiums. Not for the sport, but for their immense scale and approach that varies from global "soccer" so much. See these three!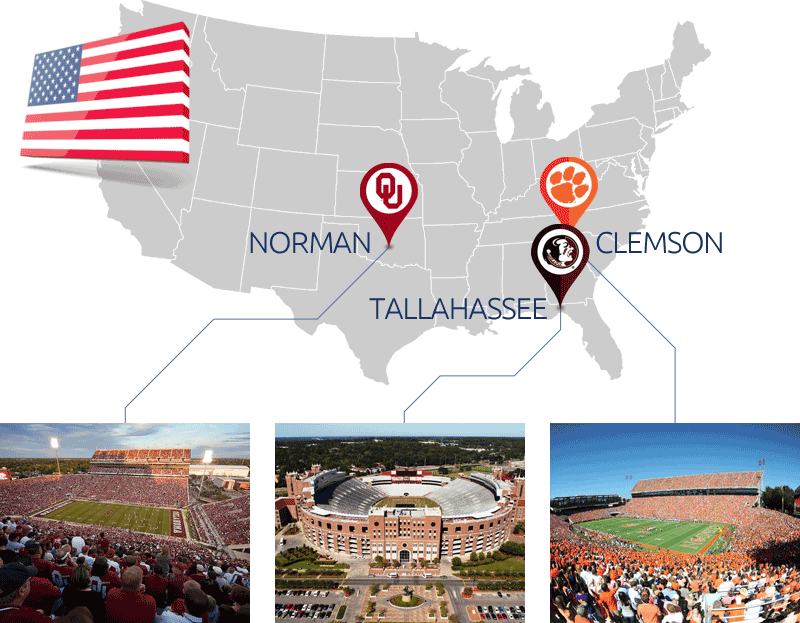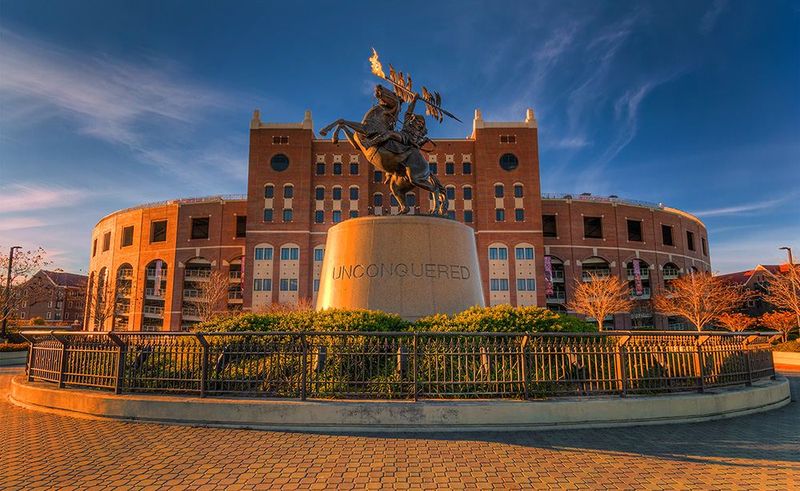 © Scott S. Baxter
The stadium west of Tallahassee's centre began rather modestly, because in 1950 some universities already had much more impressive stadia. This one was 15,000 at the time of opening, but this proved insufficient after just a couple seasons.
By 1964 it was already 40,500 and then… it began to grow for real. Largely caused by great performances of the local team it went to 80,000 in 1996, which is when the stadium received most of its current form. In 2003 capacity went further up to settle at 82,300 for years.
This kind of capacity is the more impressive when one realizes it's nearly entirely a single-tier structure that had rows added throughout the years to the initial structure. But before the scale amazes spectators inside, the exterior part does.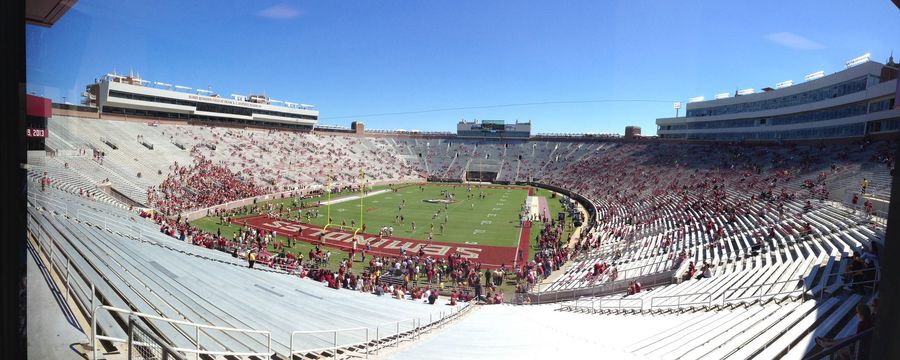 © katrinaelsi
The stadium stands out among most American university grounds for being entirely covered with brick and literally pasted with academic facilities. Several buildings are conjoined with the sports heart of Florida State University. including the admissions, human resources, registrar, nearly all sports offices and several departments of FSU with classrooms and lecture halls. We may have only seen it via Street View, but we dare to say someone might not even consider it a football stadium when passing by!
From the very first day the stadium houses the Seminoles, local NCAA side. As of 2015 the team played nearly 400 games here and enjoy a great record especially since 1988, when they nearly stopped losing at all. Seminoles had a 54-game run of victories in that period. By 2007 coach Bobby Bowden won his 300th game and the field bears his name, acknowledging the great contribution he made. The stadium itself is named after Doak Campbell, FSU president at the time of groundbreaking.
In 2015 the most expensive revamp project began. For $85 million FSU are renovating the entire stadium and expanding the south end. Change in capacity won't be significant, because two upper levels of the existing stand were taken by new corporate facilities, which will add 6,000 corporate seats, some covered. Aside from the seats one of the largest conference and banqueting centers will be created within the expanded stands, boosting the stadium's revenue potential. The addition can be seen below: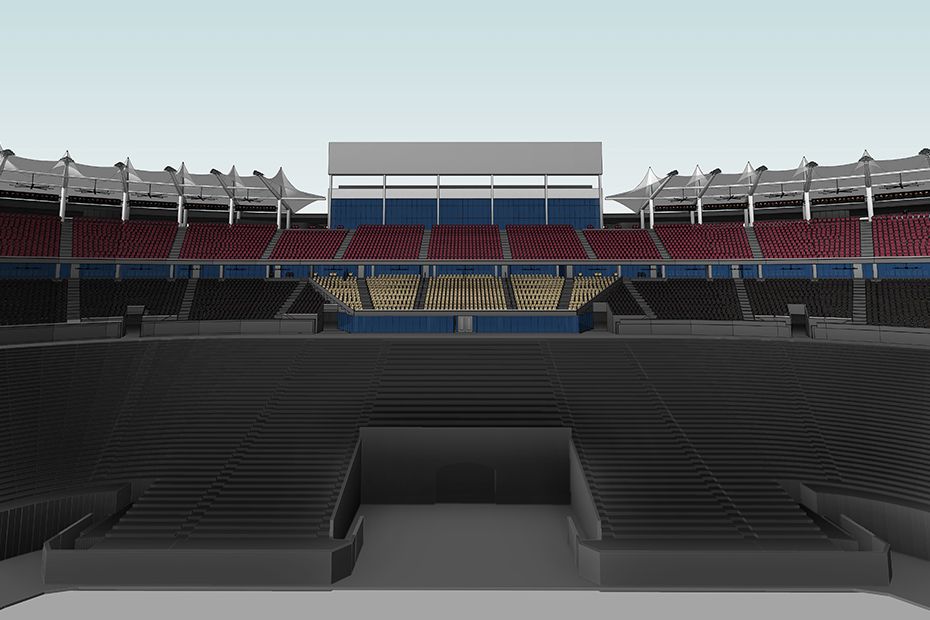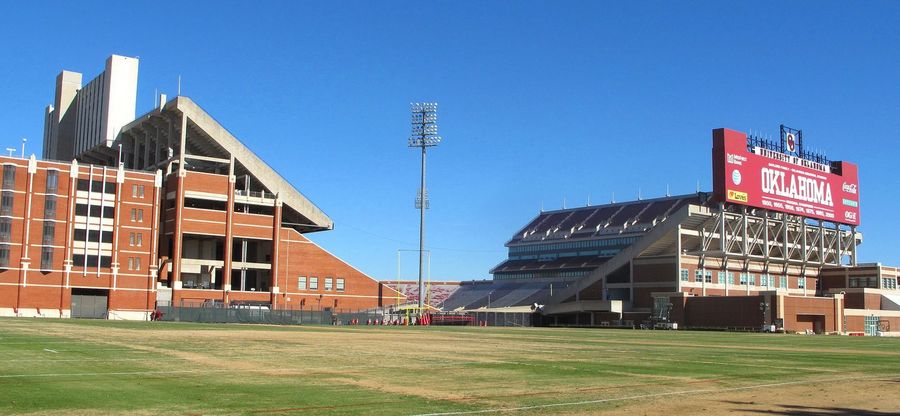 © Milanite
Though the first game here was played in 1923, there were no permanent seats until 1925. This is when the massive west side was built with 16,000 capacity. By 1929 identical structure was also raised in the east. This shape prevailed for 20 years with Oklahoma Memorial Stadium name from the start, commemorating Oklahomans killed in the WWI (later also other wars).
The golden era began in late 1940s, when local football side Sooners began winning national titles. Starting in 1950 they managed to win national championship 7 times in 25 years. In 1950 the north side was enclosed, in 1959 the south end followed. However, there were never corner sections built in the south due to training fields neighbouring the stadium closely. What remained is to go up and upwards they went in 1975, when the west side's upper deck was added.

Fot: Tony (cc: by-nc)
Since then the building was left nearly unchanged for the rest of the century. For example, until 1997 there were no permanent floodlights for night games and until 2003 fans in the east were drowned in dust when entering or exiting the stadium for lack of properly paved areas.
This changed with the first major redevelopment of the 21st century in 2003. Facilities throughout the stadium were upgraded and the east side received its own upper deck with numerous corporate zones, including 27 skyboxes. This is when the stadium reached its capacity of 81,000+, but may grow to 84,000 in the summer of 2016.
The naming is an interesting issue as the fullest name would be Gaylord Family Oklahoma Memorial Stadium at Owen Field. Gaylords are the family who contributed largely to the 2003 redevelopment and Bennie Owen was honoured in the field's name after he wasn't only a memorable coach, but also helped raise money himself for the initial stadium back in 1920s.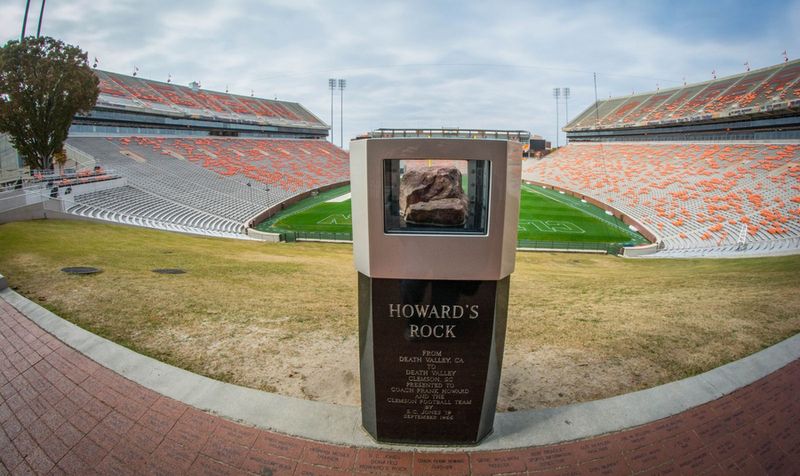 © Clemson News Room
Clemson University's website begins this stadium's history with an amusing anecdote. Apparently former coach Jess Neely told local legend Frank Howard to never build a stadium for the Tigers. Instead he suggested "Put about 10,000 seats behind the YMCA. That's all you'll ever need". Five decades after he said it Clemson averaged nearly 80,000 per game! One piece of advice that proved well off the mark.
That said, Clemson Memorial Stadium indeed began with one stand being put beside a field, but it was huge. In 1942 the south stand was built with 20,500 capacity and it remained the sole one until 1958. Then 18,000 were added in the north, while a modest western end followed in 1960. At that time it was over 40,000.
For nearly two decades the stadium remained unchanged just to see a huge leap in 1978-1982. In two phases upper decks were added to the north and south, roughly 10,000-seat each. Their scale is particularly impressive when compared with very low east/west ends. The western stand was actually rebuilt and expanded in 2005-2009, but it remains a single-tier stand with just a corporate balcony on top.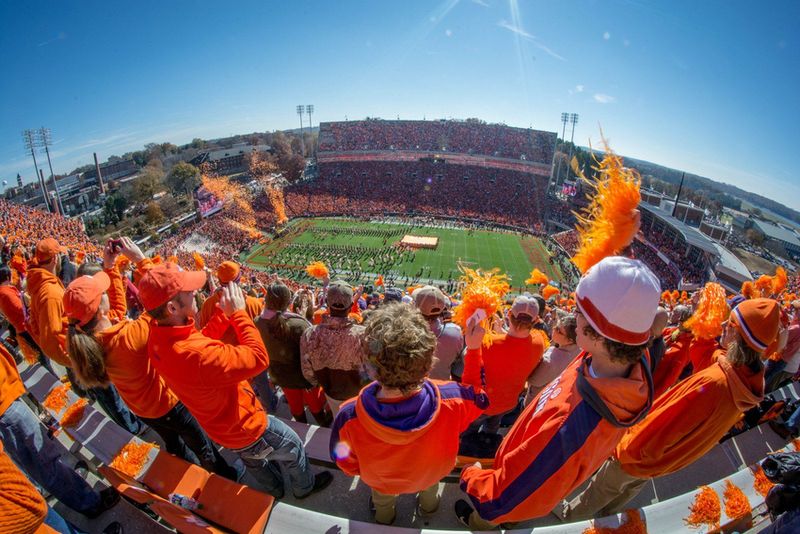 © Clemson News Room
The east side is the least developed since opening, yet the most interesting one. To this day the central part of this section is a green hill, called simply The Hill. Clemson allow 4,000 to sit there every game, but before they can use it in peace, players run down the hill onto the field.
This tradition is decades long and began naturally as locker rooms were in that area. Currently they're in the west, which makes it amusing when players are loaded onto two buses and travel around the stadium just to run down. Before doing so they meet atop the hill, around "Howard's Rock", a rock from Death Valley (California) given as a souvenir for the stadium, nicknamed Death Valley for its atmosphere.