New designs: Finland's quality leap
source: StadiumDB.com; author: michał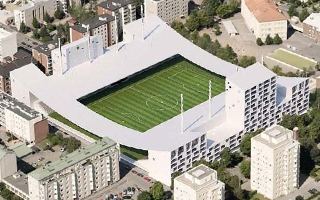 These aren't all projects planned or ongoing in Finland, but they clearly represent the major shift Finnish football will be going through in upcoming years. Meet three latest designs at StadiumDB!
Finland is hardly the country you associate with football. Vodka, mobile phones, great education system, Santa Claus - these come to mind a lot more. But now Santa Claus's home town Rovaniemi is getting a brand new football stand (we'll try to show you depending on usage rights soon), while three impressive stadium projects are now ongoing. That's more new stadiums almost simultaneously than we've seen opened in Finland in years.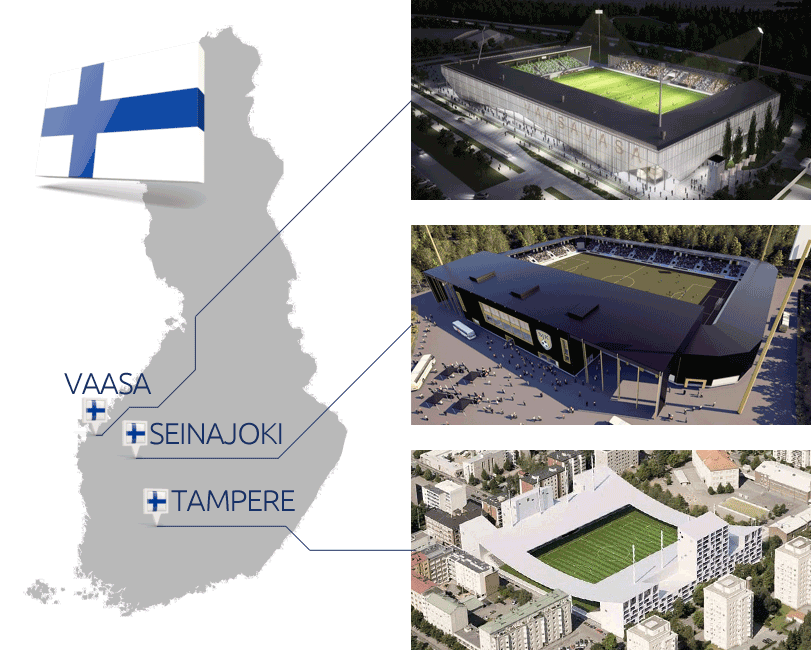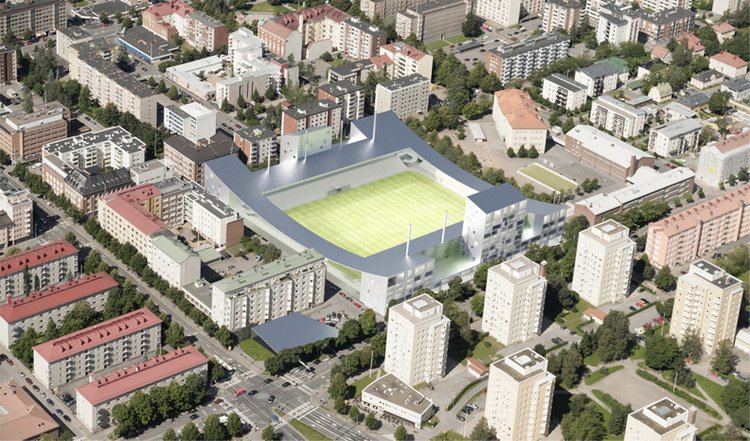 This project's most amazing feature is how much will be squeezed into the small plot in Tampere's dense residential fabric. Currently the site is occupied solely by the Tammela Stadion, able to hold just over 5,000 people. When redeveloped, the stadium will increase to 7,250 covered seats, over 170 apartments, nearly 7,000 square meters of commercial/office space and a large underground parking.
Fitting all of the above in Tammela forced all bidders of the design competition to create a solid, unified building that combines all uses. The winning bid of JKMM earned praise for its simple and clear aesthetics as well as the way it combines the different facilities.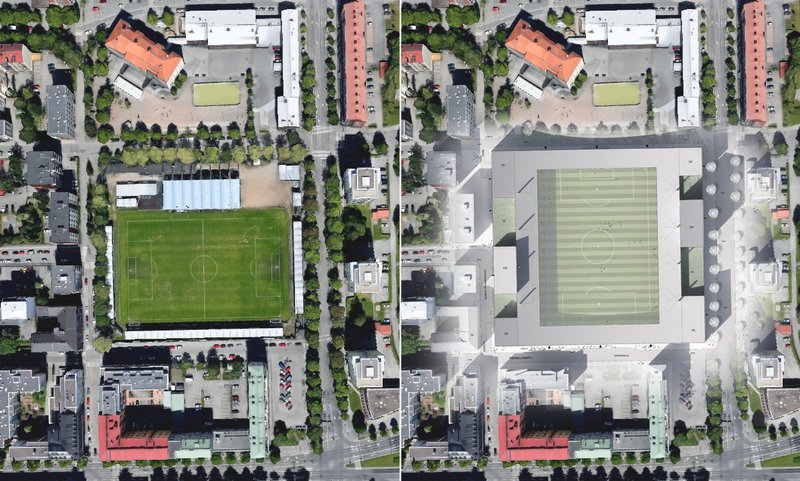 The field will be rotated perfectly to the north-south axis, which will create space on the west and south to accommodate the secondary uses. Residential buildings will be created on both sides, while the ground level will be offered for commercial use. Interestingly, current football field will be occupied by the underground parking, while new grass will grow on top of it.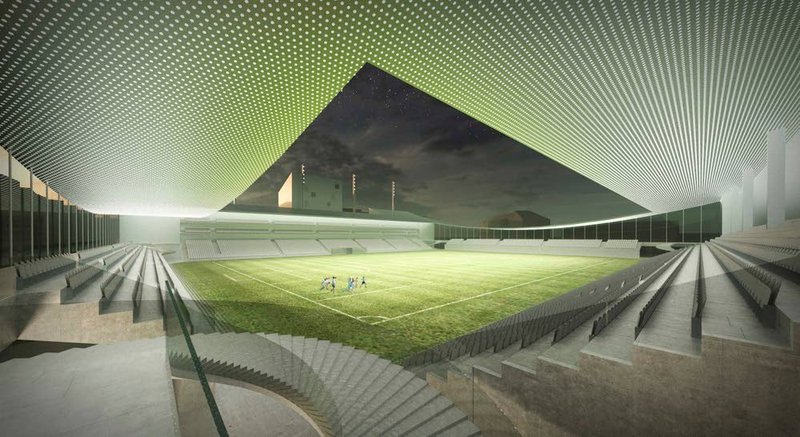 Unobstructed growth of the field should be assured by slanted roof, which is also the main aesthetic element. In this simple, minimalistic and consistent building it's the roof that catches the eye and also caught attention during the design competition. The entire project will be whitish, decorated with white stone.
While the design competition was settled back in 2014, updated version of the proposal was presented in 2015 (highest parts slightly lowered) and is currently undergoing public consultation process. At this moment we don't know any solid time frame for construction.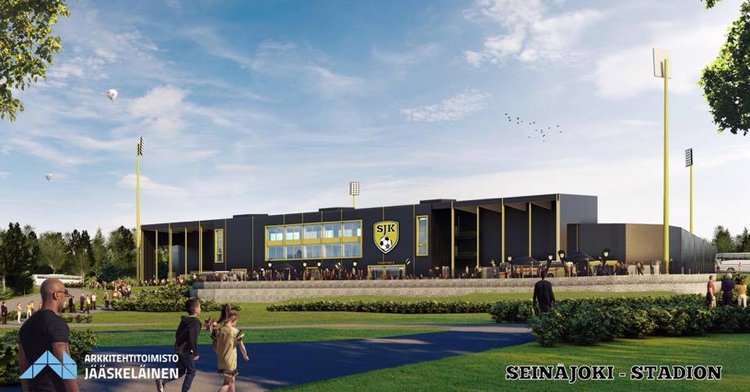 First attempts of building a brand new stadium in Seinäjoki date back to 2011, but eventually groundbreaking could only take place in 2015. Currently concrete is being poured to create the foundation slab for light stands. The main grandstand will unusually be located on the north-east side instead of west.
The stadium for roughly 6,000 fans will be ready in 2016, replacing the dated multi-use one some 2km east. That's right, it's being built in a completely new location, one occupied by forests until 2015.
Interestingly, the stadium is largely funded privately instead of the traditional model based on taxpayer money. Local authorities will supply roughly a fifth of the budget (over €2m), while the home team will cover the remainder (€8m+). SJK hope to pay their new home off within 10-15 years and be Finnish football's powerhouse by then.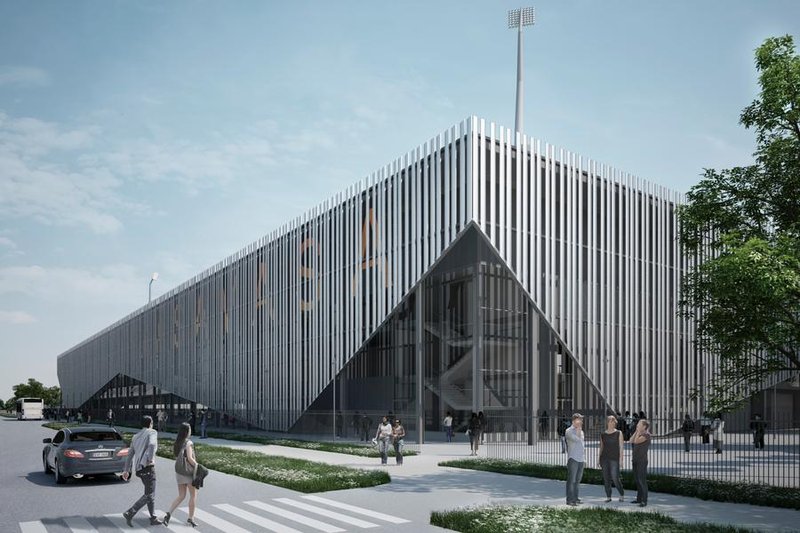 In this case we're not talking of a new stadium, rather vast expansion of the existing one. The field of play and main grandstand of Heitalahden Stadion will be left in place, while three new greater grandstands will be built on remaining sides. In fact, once they're ready in 2016, the old stand will look very modest.
The C-shaped sections will add 4,600 new covered seats at the price of over €11 million. This actually sparked some criticism when compared to the Seinäjoki stadium built at the same time. While it seems to offer better value for money than the Vaasa project, new stands in Vaasa should provide more floor space in return.
Ground was broken on the stadium in July 2015 and the entire new structure is expected to be ready as soon as mid-2016.