London: Taxpayers to benefit from Olympic Stadium? Barely
source: BBC.com / DailyMail.co.uk / StadiumDB.com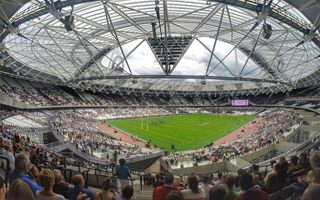 "Small profit is better than none" seems to be the attitude of London Legacy Development Corporation. The public entity will have just £200,000 left after expenses next year.
LLDC, the public company co-owning the Olympic Stadium with Newham Council, will only earn £200,000 in 2016,17, when West Ham move to the stadium. This revelation was brought by Mail on Sunday, who looked into the company's books.
On the one hand it's not uncommon to see stadia actually generate losses in their first seasons, but on the other: West Ham is almost certain to sell out their season tickets, meaning a full season of nearly or entirely sold out events might be secured in advance. One would expect a better outcome with this in mind, especially with Premier League ticket prices.
© The Ball is Round
This news caused further criticism of the deal with West Ham, who will have all of their cleaning and maintenance costs covered by the stadium operator (Vinci). A recent petition signed by over 24,000 people didn't help in bringing the deal's details to light. The British Parliament decided it will remain confidential.
Department of Culture, Media and Sports wrote a statement in response to this public campaign. It reads: "The detail of the rental agreement between the Stadium owners and West Ham United is commercially sensitive. Disclosing details of the contract would undermine the future negotiating position of the Stadium's operator, Vinci, who are working hard to bring in future events to get the greatest possible return and ensure that the Stadium is a commercial success."
Those future events will include concerts and athletic competitions among other and none of them will benefit West Ham as the anchor tenant, the Department argues. "None of these events will financially benefit West Ham United. All revenues from these events will be shared by the operator and the Stadium owners. The stadium operator has a proven international track record of success in managing and maximising revenue from multi-use stadia and is contractually incentivised to generate maximum income."
Campaigners opposing the secrecy of West Ham's reportedly lucrative deal assure they won't rest until they know details. Mat Roper, representing the critics, said it's not the end of their efforts. "We're no nearer the truth of what we think is in the rental agreement....until we know that then we're going to continue.
"Whether it happens to be continuing with that petition, a new petition or... a new FOI request, it's certainly not dead in the water."