Germany: Another stadium to lose running track, now Oberhausen
source: Stadionwelt.de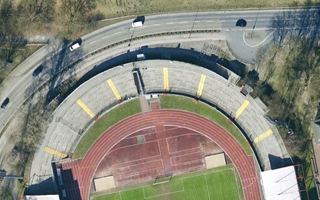 After many larger ones, now Stadion Niederrhein in Oberhausen will lose one of its "kurves" to bring fans closer to the action. No running track to remain.
According to Radio Oberhausen, reconstruction of Stadion Niederrhein is close at hand. The move will resemble those done at larger stadia, like Bremen or Stuttgart. Sections along the field will be left intact, while the northern curve is awaiting demolition.
The project foresees a 3,110-capacity new grandstand built along the goalline. It will bring fans much closer to the field, reducing the distance from 50 meters (most distant part of the curve) to 13 meters. Athletes will have to move after this project is delivered, though no specific timeline for the southern curve to follow was announced.
The new grandstand is priced at €2.8 million and will see first work as soon as late November. Last game with the so-called Emscherkurve will be the one between Rot-Weiss Oberhausen and Rot-Weiss Essen on Nov 15. Below we give the most likely outline of what's planned. Please mind this is our own understanding of the scheme, not official materials.