Eurobasket 2015: Lille breaks basketball attendance record
source: StadiumDB.com; author: michał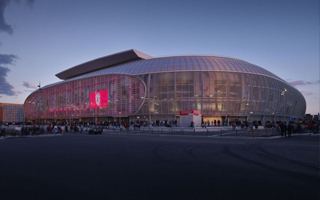 Yesterday's game between France and Turkey drew over 26,000 people to Stade Pierre Mauroy. The innovative French venue saw half of its stand converted into an indoor arena.
In the first game of Eurobasket's knock-out stage yesterday France defeated Turkey (76:53) at Stade Pierre Mauroy. The hosts advanced to the quarterfinal, but this game made history off the pitch.
Firstly, it's the first ever Eurobasket game to be held at a covered stadium instead of regular indoor arena. Secondly, with 26,135 people inside it broke the record for a competitive European basketball game. Previous one belonged to Serbian Crvena Zvezda, who in March 2014 drew 24,232 people into the country's national basketball arena.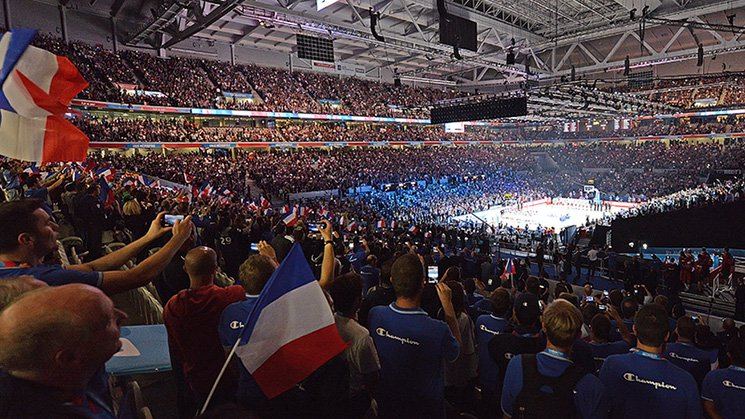 Hosting a basketball game inside Stade Pierre Mauroy, just like playing tennis there before, was possible thanks to the world's first foldable field. One half was lifted on top of the other, making room for the basketball field with additional temporary stands.
While words could probably explain it better than our above description, you may as well see the stadium's photos in our presentation from Lille or just click play on the below video:
While Lille's new record sounds very impressive, it's "only" for a European game. We mean only, because the global record is beyond reach of any sports venue in Europe. It was set 5 years ago and seems safe for years to come. The 2010 NBA All-Star game at AT&T Stadium in Arlington was watched by 108,713 people.