USA: The not-as-Big House
source: freep.com; author: michał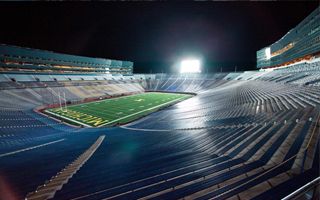 Michigan Stadium operator just announced its capacity will decrease by 2,300 for the upcoming season of football. Still the second largest worldwide and largest in the US, though.
The University of Michigan announced today that the iconic stadium's capacity will be reduced this season to 107,601, a loss of 2,300 seats due to re-configuring for non-football events and compliance with the Americans With Disabilities Act.
The capacity was 109,901 since last expansion in 2010. Even after the decrease Michigan's giant remains largest across the United States and second largest worldwide. However now the difference between Penn State's Beaver Stadium (106,572) is much more modest, at just 1,029 viewers.
Average attendance at Michigan Stadium stood at 104,909 last season, which was only enough to come second in terms of Big Ten league attendance. Largest crowds were seen at Ohio Stadium, 106,296 per game.

© Michigan Central Lines