Palestine: Turkey to build Palestinian national stadium in Gaza Strip
source: AA.com.tr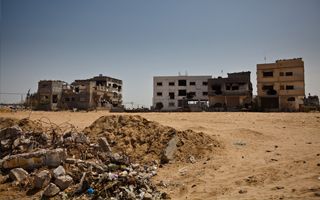 Upcoming years will see a brand new 20,000-seat stadium built in the Gaza Strip by Turkish authorities. The project was approved by president Erdogan.
Turkish taxpayers will cover design and construction of Palestine's new national stadium. Not national by name at this point, but with 20,000 seats and all FIFA requirements met, it would become the best across Palestine and likely to hold major events.
The news was announced on Tuesday by Abd al-Salam Haniyeh, member of the Higher Council of Youth and Sports in the Gaza Strip. The stadium will be built in Gaza and will represent the single largest sports project carried out as part of Turkish support for Palestine.
According to the data provided by the Palestinian Ministry of Sports, a total of 30 sports facilities were destroyed and 32 athletes were killed in the Israeli offensive in Gaza last summer.
Over 2,160 Palestinians were killed and thousands injured in the onslaught – mostly civilians – while hundreds of homes and broad swathes of infrastructure were reduced to rubble across the territory, according to the UN. At least 73 Israelis – 68 soldiers and five civilians – were also killed during the 51-day conflict.